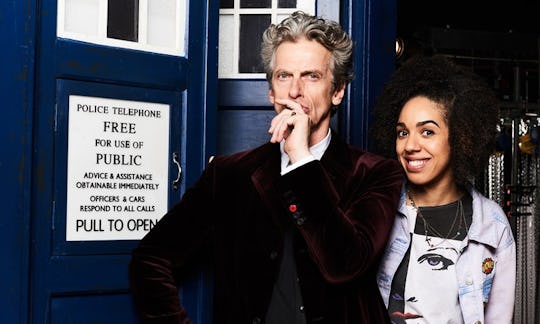 Ray Burmiston/BBC
Peter Capaldi Is Taking His Final Bow As The Time Lord On 'Doctor Who'
Merry Christmas, Whovians! To mark the holiday, there is a new Doctor Who Christmas special, but the episode will be bittersweet. The special, titled Twice Upon a Time, will be the final episode for showrunner Steven Moffat and our current Time Lord, Peter Capaldi. So why is Peter Capaldi leaving Doctor Who? It's time for someone else to take on the iconic role.
Capaldi has played the Doctor for the past three seasons, which is about the length of time most Doctors stay on the show. However, he did reveal on BBC Radio that he'd been asked to stay but decided it was time to move on. "I've never done one job for three years," he said in regards to his decision. "I feel it's time for me to move on to different challenges. I feel a bit sad but rather wonderful... I want to move on to other challenges but there's never been something that's more special to me."
Many fans were sad when they first heard the news, especially because Capaldi was really just starting to make the role his own. Nevertheless, the actor is happy to depart the show and pass the reigns to someone else. This time, the honor will go to Jodie Whittaker, the first ever female Doctor.
The Christmas special will include the Doctor's next regeneration so Whittaker will make her first appearance in the episode, as Capaldi exits. The Christmas special will also feature Game of Thrones' David Bradley as the First Doctor, who also has to come to grips with his own regeneration.
Moffat told Digital Spy that there are "colossal differences" between the two Doctors, something that the special will look to explore. "The twelfth Doctor is rather shocked at this old guy that comes in with all his 1960s sensibilities and his non-PC attitude to things, because he's from that era," Bradley said of his character. "For me, the comic energy between them has a lot to do with these two different worlds they're both coming from."
Fans first saw the two Doctors meet at the end of "The Doctor Falls," and the Christmas special will pick up pretty closely to where that episode left off. The two Doctors, along with their companions, will have to face enchanted glass people and a World War One captain, played by one of the show's writers, Mark Gatiss.
When discussing the special at New York Comic Con, Capaldi called it "iconic" and reflected on his departure and final moments on the show. "You're doing something that all the Doctors have to go through at some point and it was sad," he said. "All the special people that I'd worked with were all there, so we all sort of said goodbye at the same time... It was fun and then sad, too." He also mentioned looking forward to seeing Whittaker take on the new role, and mentioned that he hopes "people are embracing her. She is absolutely wonderful."
Although the response to Whittaker hasn't been totally positive, for the most part people seem to be excited that they'll finally be a woman Doctor and to see how this will play out on the show. Coming onto the show with Whittaker is Chris Chibnall, who will take on the role of lead writer and producer on the time-traveling series. Whittaker and Chibnall worked together on the BBC hit, Broadchurch, which also starred David Tennant, who played the tenth Doctor. (Small world, I know.)
As for what Capaldi plans on doing next, he hasn't said just yet, but whatever it is it'll surely be good. You can see Capaldi's final bow as the twelfth Doctor in Twice Upon a Time, which airs on BBC America Monday, Dec. 25 at 9 p.m. EST.
Check out Romper's new video series, Romper's Doula Diaries:
Watch full episodes of Romper's Doula Diaries on Facebook Watch.