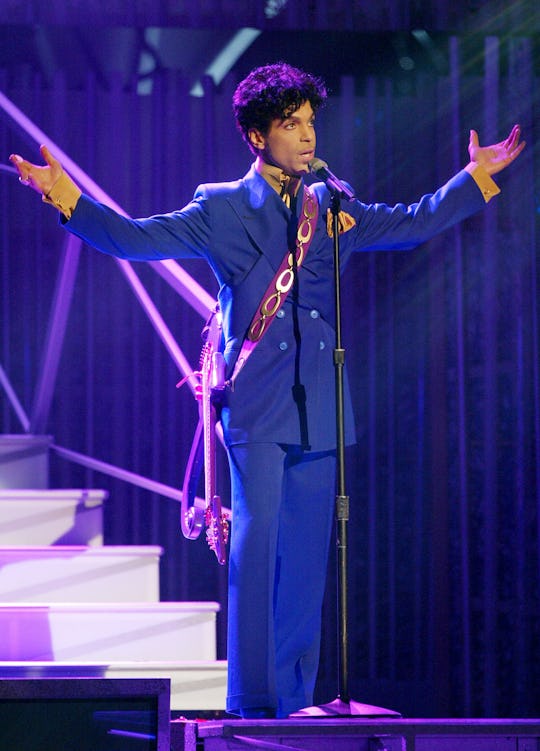 Frank Micelotta/Getty Images Entertainment/Getty Images
Why Is 'Purple Rain' Eligible For An AMA? Prince's Legacy Lives On
The American Music Awards are not the most exciting awards in the whole world, let's just be real. But sometimes, even the smallest award shows are a good excuse to see your favorite artists flaunt their stuff. Since award shows like the American Music Awards give out honors for works and successes over an entire year, there are sometimes awkward moments when an artist wins award and the artist is dead. Like this year, anyone who mourned the pop star might have been wondering why Prince's Purple Rain was eligible for an AMA this year.
It's a good question, seeing that the album wasn't new. Despite that fact, the album was nominated for — and won — Best Soundtrack, beating out the soundtrack for Suicide Squad: The Album and Star Wars: The Force Awakens. So how did it happen? Well, according the official American Music Award the category winner is is chosen based on "album and digital single sales, radio airplay, streaming, social activity, and touring." And since Prince's death, Purple Rain album sales have surged, according to Billboard.
Accepting the award on Prince's behalf, his sister Tyka Nelson took to the stage to share some words with the fans:
"Prince defied the odds. A black teen in Minneapolis with a goal to electrify the world, he had the courage to be different. With his vision and God given talent, he is still one of the world's most respected and loved artists. What he told me was that he wanted to be known as the world's most prolific songwriter. With love, honor, and respect for every living thing in the universe separation ceases and we all become one being singing one song.
With that kind of speech, it's hard to remember that just last year on the AMA stage, Prince was getting down in a gold jumpsuit. The 2015 AMAs was one of Prince's last public appearances before he died in April 2016, so this soundtrack win is bittersweet.
But Prince had long been an honoree at the AMAs, so it's fitting for the show to honor and remember him this year, even if it's just for posthumous sales of his most iconic album. At the AMAs in 1985, Prince gave one of his most iconic speeches. Accepting the award for "Favorite Pop Album" for The Revolution, Prince accepted the AMA saying, "For all of us, life is death without adventure, and adventure only comes to those who are willing to be daring and take chances."
This year, Prince's family spoke for him. Sharon Nelson, Norrine Nelson, John R. Nelson, Alfred Jackson, and Omarr Baker, family and friends, accepted the AMA for Best Soundtrack in his honor. "On behalf of Prince — our wonderful friend, teacher and brother — I humbly accept this award. We will keep this for you at Paisley Park, until we see you again. This is for you," his friends said.
It's good to know Prince still rocks on.