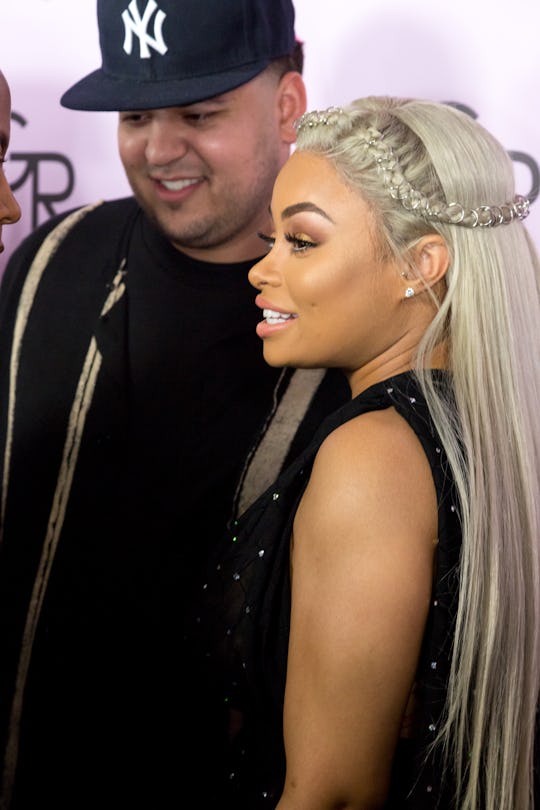 Greg Doherty/Getty Images Entertainment/Getty Images
Why Is Rob Kardashian Being Investigated? Reports Claim He Allegedly Threatened Someone
And now, it's time for the latest installment in the chronicles of the tumultuous, reality TV-ready relationship between the lone Kardashian brother and his pregnant fiancée. According to reports, Rob Kardashian is being investigated for allegedly threatening a man Blac Chyna is rumored to have had a relationship with. The situation is murky and the details of the texts Kardashian is reported to have sent are hazy at best, but the Los Angeles Police Department threat management unit is currently working to determine whether the communication between Kardashian and actor/singer Pilot Jones constitutes a criminal threat. Romper reached out to Kardashian for comment but has not yet heard back.
According to TMZ, Kardashian allegedly sent the text messages when he saw recently published photos on Radar Online that reportedly show Chyna and Jones making out. "Leave my wife alone," one reportedly reads. "I'm not playing with you." That alone is not enough to arrest or charge Kardashian, but that doesn't mean he's in the clear.
"They plan to investigate Rob Kardashian and get his side of the story," LAPD officer Tony Im told People. "Obviously we have to do a thorough investigation and get everybody's side of the story to ensure we have enough probable cause to make an arrest."
The evidence that Jones and Chyna spent time together recently is scant. The British gossip site Mirror noted that Chyna's hair was straight and she had bangs in the photo — a hairdo she had last been spotted with in May.
And the former stripper herself — who's expecting a baby girl Nov. 16 — fired back at the allegations that she cheated on Kardashian on Instagram Thursday, posting a hodge podge of "proof," including screen shots of text messages that Kardashian appears to have exchanged with Jones:
In the caption, Chyna wrote that she and Jones were only ever friends, said the pictures were reportedly taken so that he could make his love interest jealous, and that it all happened more than two years ago. Finally, she accused Jones of purposely sharing the photos with the press as a publicity stunt, reportedly to promote his own music. "Mind you at the time I THOUGHT THIS WAS MY FRIEND and I didn't see a problem with it!!!" the caption reads in part. "This was over two years ago people !!! I never had sex with him ! NEVER EVER! Nothing ever happened past these pics."
In another Instagram post, Chyna claims that Pilot is trying to extort her with the photos. "I work hard for my coins! Right plan wrong woman," she concluded the post.
Kardashian and Chyna's relationship is already mired in familial controversy. Chyna has a 4-year-old son with the rapper Tyga. Tyga, of course, also is in a on-and-off relationship with Kardashian's younger half-sister, Kylie Jenner. (And it's clearly a point of contention between the siblings: Kardashian recently Tweeted out her cellphone number to his millions of followers, apparently miffed that Chyna had not been invited to a baby shower Jenner had a part in planning.)
The latest Kardashian drama is as juicy and salacious as ever, but it could have real legal implications for Rob Kardashian. Publicity and feuds are great for reality TV stars, but this may have gone too far.