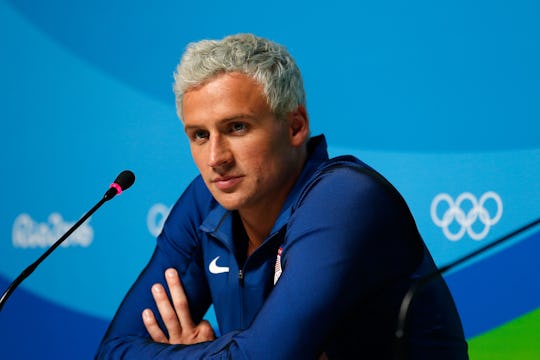 Matt Hazlett/Getty Images Sport/Getty Images
Why Is Ryan Lochte Performing On 'Dancing With The Stars'? It Could Repair His Image
Cycle 23 of Dancing With the Stars premieres on Monday, Sept. 12, and it's been all but confirmed that embattled Olympic swimmer Ryan Lochte will be competing. But after a scandalous end to his Rio visit this summer, is Ryan Lochte performing on Dancing with the Stars really a good idea? A quick recap of the drama, for those who've been on vacation or under a rock: news broke on Sunday, Aug. 14 that Lochte and three other Team USA swimmers had been robbed at gunpoint while out in Rio by men who were either police officers or masquerading as police. Lochte claimed in an exclusive interview with Todays's Billy Bush that the swimmers' taxi had been pulled over by an unmarked car on the way home from a party the night before, and one of the robbers actually held a gun to Lochte's head while demanding money.
No so fast, said Brazilian police, claiming that what actually happened was that the foursome stopped at the gas station to use the restroom, and upon finding the door locked, broke it down and trashed the place. The "robbers" were merely security guards who were asking the men to pay for the damages while their guns remained holstered. After some back-and-forth, security video was released, and it seems the truth lies somewhere in the middle: the swimmers stopped to used the restroom, found it locked, and went behind the building instead. On the way back to the car, Lochte pulled down a metal-framed poster. He was ordered to pay for it, and a gun was drawn, but not held to his head. Lochte admitted to Today's Matt Lauer that he'd "over-exaggerated" what happened, and he'd been "very intoxicated" at the time of the incident.
Four of Lochte's sponsors dropped him as soon as the truth came to light. USA Swimming and the U.S. Olympic Committee have yet to announce any punishment for Lochte, but given the public outcry, it's not out of the realm of possibility. Regardless, it's probably a good time to take up a new activity. But the question is, does America even want to see Lochte on Dancing With the Stars, or has he lost too much good will? Deadline has reported that the deal was already in place before the Rio debacle, so perhaps the show has no choice but to play host to Lochte's apology tour.
And Lochte wouldn't be the first Dancing With the Stars contestant to use the show as image rehab. After lying low for a couple of years following a racism scandal, celebrity chef Paula Deen competed for the mirror ball during cycle 21. And Andy Dick, who's image is notoriously messy, briefly cleaned it up to appear on cycle 16 in 2013, although that lasted as far as the finale, from which he was ejected. But Lochte's faux pas, though it wasn't OK, certainly pales in comparison to Deen and Dick. A few turns on the dance floor, and America will probably be willing to forgive and forget. As for Brazil, that's another story.