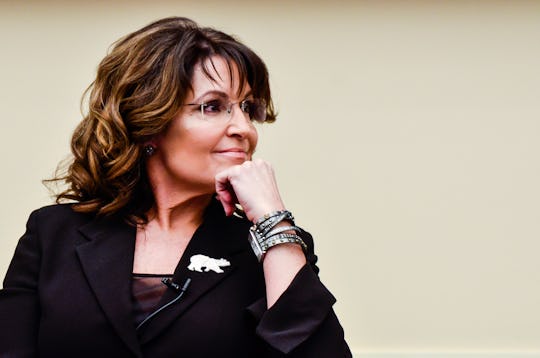 Kris Connor/Getty Images Entertainment/Getty Images
Why Is Sarah Palin Feuding With Paul Ryan? Donald Trump Is To Blame
Well, Sarah Palin is in the news again. Somewhere, I imagine, John McCain puts his head in his hands and wonders what he unleashed upon the world. This time, the former Alaska governor is making headlines with her announcement that she will work to defeat House Speaker Paul Ryan in the Wisconsin primary election for his current seat. But is there a reason why Palin is feuding with Ryan? Simple—Donald Trump.
Palin, perhaps known best as the former governor of Alaska and for her disastrous, 2008 vice-presidential run (as well as providing fodder for a really excellent Tina Fey impersonation on SNL) came out earlier this election cycle in support of now-presumptive Republican presidential nominee Donald Trump. In her rambling endorsement speech, which many compared to slam poetry or performance art, Palin asserted that Trump was the best person for the GOP. (At least that's what she seemed to say. It was occasionally hard to tell.)
But a lot of Republicans have been much less enthusiastic about jumping on the Trump bandwagon, and Paul Ryan is one of them. In fact, Ryan, who many had hoped might be put forward as an alternative to Trump at a brokered convention, said publicly this week that he was "not ready" to endorse the businessman/taco bowl fan, despite Trump's new efforts to unite the Republican party. And oh boy, Palin was not happy about that. Paul Ryan, watch out. Palin's coming for you.
Speaking on CNN's State of the Union on Sunday, Palin said of Ryan:
His political career is over but for a miracle, because he has so disrespected the will of the people, and as the leader of the GOP, the convention, certainly he is to remain neutral, and for him to already come out and say who he will not support was not a wise decision of his.
In the Wisconsin Republican primary on August 9, Ryan will face a challenge from businessman Paul Nehlen, who has said that he will support Trump if he is the nominee. So, in return, Palin is going to support him. Palin has said that she will do "whatever [she] can for Paul Nehlen," although no word yet on what exactly that will entail. However, Palin is hopeful that, now that she's thrown her influence into the race, Ryan will be "Cantored" — a reference to former House majority leader Eric Cantor, who was stunningly defeated in a 2014 primary by a little-known and poorly-funded opponent.
Only time will tell if Palin's wishes will come true, if Ryan will bow to Republican pressure and change his mind on the Trump issue, or if the entire American political system will implode. While we wait, we can at least cross our fingers for another Tina Fey SNL return.