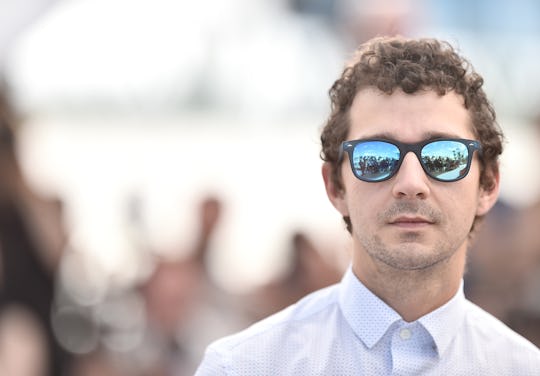 Pascal Le Segretain/Getty Images Entertainment/Getty Images
Why Is Shia LaBeouf Playing John McEnroe? It's A Perfect Match
The notoriously unpredictable actor Shia LaBeouf is earning some of the best reviews of his life for his role in American Honey, a selection at the Cannes Film Festival Sunday. LaBeouf "easily delivers his best performance here, bleeding the eccentricities of his own celebrity persona into the character to fascinating, oddly moving effect," Variety's Guy Lodge wrote. The accolades for the film, which originally premiered last year, have surely been a boon for his oftentimes downright bizarre-seeming career, and now Shia LaBeouf is playing John McEnroe, a famously volatile professional tennis "bad boy" who was enmeshed in one of the most intense sports rivalries of all time during the 1970s and 1980s. Considering LaBeouf's real-life stunts and antics, he's the perfect star for the upcoming biopic, Borg/McEnroe.
According to The Hollywood Reporter, McEnroe was a "wild, tantrum-throwing" man who faced off against the Swedish star Bjorn Borg 14 times throughout their respective careers in professional tennis. "Jake is me. So is McEnroe. That's it, man," said LaBeouf at a Cannes Film Festival press conference Sunday, referencing his American Honey role as well. "I understand these people, I empathize with them. I get it. You turn things up and turn things down. It's me."
He's not kidding. In 2014, the now 29-year-old actor — immortal in my mind as the prankster kid, Louis, on Disney Channel's Even Stevens, which ended in 2003, and Stanley Yelnats in the 2003 film adaptation of Louis Sachar's Holes — visited The Ellen DeGeneres Show to discuss his erratic behavior, which culminated in a short stint in jail after he spit on a cop. It was an "existential crisis," he said, that prompted him to wear a paper bag reading "I'm not famous anymore," over his head to the "Nymphomaniac" premiere and to later host the #IAMSORRY exhibit, which invited people to use a whip and pliers on him, if they wanted to.
Whether he's watching all his movies back-to-back over the course of three days in a New York City theater as a public art project or throwing coffee at the paparazzi, LaBeouf's actions always come off as raw and emotional, not unlike McEnroe's outbursts during a match.
In a 2008 profile of McEnroe, The New York Times summed up many of the ways the man had been described during his prime, like "carping, bullying, tactless, moody, bitter, confused, clueless," and "selfish jerk." While LaBeouf is generally regarded as more volatile and just plain strange than malicious, it's not hard to see how he could channel the essence of McEnroe for the role. Both men are talented, and clearly passionate about their work. Each of their careers has encapsulated that offbeat, intense dedication, and a complete disregard for established social norms.
Borg/McEnroe is slated for a 2017 release.
‌