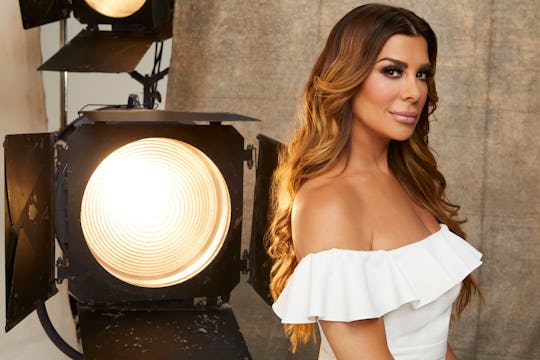 Rodolfo Martinez/Bravo
Siggy Flicker's Time On 'The Real Housewives Of New Jersey' Is Coming To An End
After two seasons on the show, it is with a heavy(ish) heart that I report to you all that Siggy Flicker won't be part of the next season of The Real Housewives of New Jersey. So why is Siggy Flicker leaving RHONJ? She released a very polite statement to Bravo's blog The Daily Dish explaining her reasons for moving on from the show. But it's possible there could be more to the story than Siggy said in her official statement about the show.
Siggy's statement to The Daily Dish reads:
After much reflection and Bravo's support, I have decided that this will be my last season on The Real Housewives of New Jersey. I am grateful to the network for allowing me to be part of this successful franchise and wish only the best for Teresa, Melissa, Dolores, Danielle and Margaret. At this time, I want to focus on my beautiful family, my growing business and some exciting new projects.
But if you've been watching the show closely, you probably have some suspicions that there's more to the story here. After all, Siggy and newcomer Margaret Josephs have been at each other's throats all season long. Is it possible that Siggy's departure has something to do with this pigtailed lady? It's certainly possible.
Throughout the show's eighth season, Siggy, who was on her second year with the franchise, clashed badly with Margaret. The disagreements started when Margaret nicknamed Siggy "Soggy Flicker" because she apparently cries too much. Siggy took huge offense to this, and spent much of the rest of the season asking Margaret to apologize. Furthering the discord, Margaret at one point made an Adolf Hitler comment, which Siggy called out for being anti-semitic. "I don't know how to explain myself to you guys. To me it's insensitive," Siggy said at the time. "From the time I was a young girl, the Holocaust is part of who I am. I gave her [Josephs] an opportunity to say, 'Hey maybe that was in poor taste …' In life, there's just certain references that cannot be made."
Margaret was greatly offended by this accusation, though she later apologized to Siggy, stating: "I would never know that would hurt you to the core, and that wasn't my intention. Hitler's a trigger word for you, you know, if I knew that, I would've never even said it. I would never want to hurt you. I'm sorry."
Later on Siggy and Margaret seemed to make amends. In fact, Siggy even went so far as to thank her costar for the apology. "I want to believe with all my heart and soul that you are not anti-Semitic," she stated, while later adding, "But if I hurt your feelings, I apologize for that." This resulted in Siggy withdrawing her anti-semitic comment about Margaret: "I said it in the heat of the moment, but I don't think that you're anti-semitic. I don't believe that Margaret is anti-Semitic, I believe that Margaret is anti-Siggy." So that particular piece of drama may have been over with, but there still didn't seem to be much love loss between these two.
Whatever the reason is for Siggy's departure from the show, you can depend on the fact that she'll be keeping busy with her work as a relationship expert and life coach. I'm just hoping she releases a tell-all book soon so we can all learn the real story of what happens behind the scenes on The Real Housewives of New Jersey.
Part 2 of the Season 8 reunion will air Wednesday, Jan. 24 at 9 p.m. EST on Bravo. Trust me when I say you won't want to miss it!
Check out Romper's new video series, Romper's Doula Diaries:
Watch full episodes of Romper's Doula Diaries on Facebook Watch.