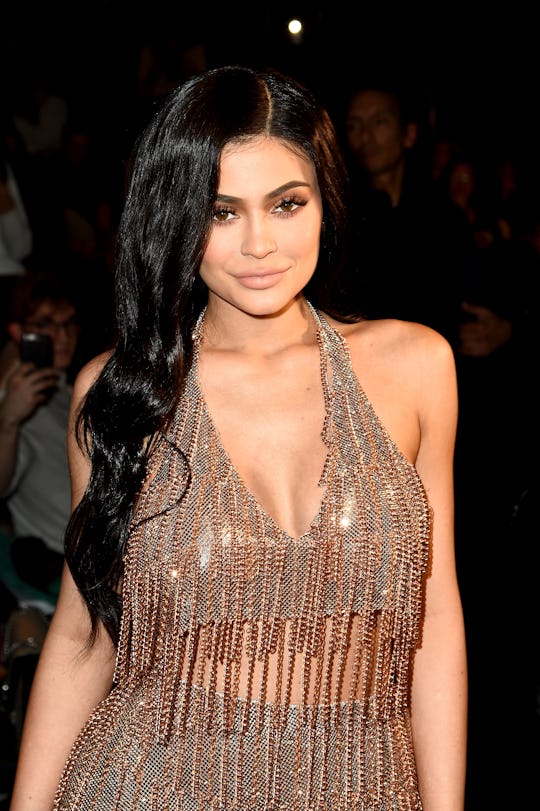 Nicholas Hunt/Getty Images Entertainment/Getty Images
Here's Why Stormi's Last Name Is Webster & Not Scott Or Jenner
At last, the mystery of "is she or isn't she" has finally been solved. After months of unconfirmed rumors, it turns out Kylie Jenner really was pregnant, and on Feb. 1, she gave birth to a girl. On Tuesday, she shared a photo of the child on Instagram and revealed her name, and some people are confused about why Stormi's last name is Webster. Some assumed her last name would be Jenner, or Scott, after her father, Travis, and thought that Webster was actually her middle name. But honestly, we should know better by now than to make any assumptions about baby names when it comes to the Kardashian-Jenner family. I mean, really.
It's unclear whether Stormi actually has a middle name — her cousins are split pretty evenly on the issue — but if history serves us right, TMZ will be publishing that birth certificate any day now. But Jenner followed suit with all of her siblings and gave her daughter her boyfriend's last name. His real name is Jacques Webster; "Travis Scott" is actually a stage name inspired by his favorite uncle, according to Complex. You've got to admit, "Jacques Webster" doesn't really scream "rapper" when you first hear it. But Dad never went through with a legal name change, and considering the fact that he shares Webster with his daughter now, he probably never will.
"Travis is smooth," Webster told Complex in 2015. "He has this ill-ass crib, is fresh as hell, has all this land." Webster always looked up to his uncle, who went by Scott as a nickname (no word on why, exactly). "He played golf and sh*t," Webster told Grantland in 2014. "He just had swag." And while great-uncle Travis didn't get the honor of having his great-niece named after him, at least his nephew is still talking him up every chance he gets. That's got to feel good.
The casual Kardashian-Jenner follower might not know too much about Webster, but behind the grill and the adopted name lies a pretty surprising past, considering the persona he presents. Webster grew up in the suburbs of Houston, he told Complex, attending private school and taking piano lessons. As a teenager, he quit piano and switched to rap because he "wasn't getting no b*tches," he said. He was inspired in part by the man who would eventually become his daughter's uncle, Kanye West. Webster graduated early at 17 and enrolled at the University of Texas, but two years in, he followed in his idol's footsteps and dropped out to pursue his music career.
A year later, Webster told Complex, he met West, who offered him a Doritos Locos Taco "on this fancy ass platter, like some Hermes sh*t." That sounds pretty on-brand! The starstruck Webster choked it down politely, he said, despite his aversion to sour cream. It paid off, I suppose, because the two signed a deal in 2012, and West appeared on Webster's debut studio album, Rodeo, in 2015. Billboard reported that the album debuted at number one.
Webster also owes West a debt of gratitude on a personal level, as he may never have met Jenner if it weren't for him. Webster performed a short set at her older sister Kendall's 21st birthday party in November 2016, according to People, and by April 2017, he was spotted pretty much everywhere with Kylie, from Coachella to an NBA game to a random Boston suburb. Now, 10 months later, he's got a daughter with her, and is now officially a part of the family. Uncle Travis may have been Webster's first role model, but honestly, he should probably change his name — and his daughter's — to West.
Check out Romper's new video series, Romper's Doula Diaries:
Watch full episodes of Romper's Doula Diaries on Facebook Watch.