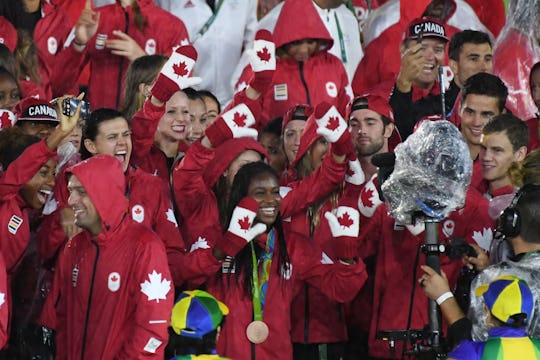 LUIS ACOSTA/AFP/Getty Images
Why Is Team Canada Wearing Mittens At The Closing Ceremony? They're A Canadian Tradition
At the Olympic Games' closing ceremony in Rio Sunday evening, the Canadian team showed up to represent the North with a pretty Canadian accessory: mittens. Considering that it's the summer Olympics, however, why is Team Canada wearing mittens at the closing ceremony? The Olympic mittens are a bit of a Canadian tradition at this point — and the athletes are a big part of it.
Since 2009, the Hudson's Bay Company has held their Hudson's Bay Red Mitten Initiative to support Canadian athletes. For every pair of red mittens sold, the Bay donates 30 percent of the sale to the Canadian Olympic Foundation, so having athletes wear the Team Canada mittens during the closing ceremony is an awesome, patriotic way to bring people together and support sports — both at home and while in Rio.
During the Vancouver 2010 Olympics, you couldn't live on the west coast of Canada without owning those Hudson's Bay red mittens. (OK, you could, but it seemed like everyone was getting into the Olympic spirit and donning the mittens.) Seeing Team Canada wear the 2016 mittens now brings back some good memories for those who have witnessed the Olympic spirit up north, but a few observers abroad were a bit confused.
Reactions ranged from proud (go Team Canada!) to light teasing:
For those who want to get in on the Team Canada red mittens, Hudson's Bay sells them for $10 (for tiny babies' hands) to $15 (for the adult mittens the world saw at the Olympics this year). And, as the Olympic athletes in Rio proved, you can wear them summer or winter.
Olympic athletes hopped onto social media on Sunday to share a few snaps of their celebratory and very Canadian looks. Olympic swimmer Brittany MacLean tweeted, "Canada is prepared for a chilly closing ceremonies in Rio!" along with a picture of her cute gloves and an overwhelmingly red group of Olympians.
Most importantly, the team looked like they were having an awesome time (mits and all) and it was a well-earned celebration: according to The Globe and Mail, Canada earned 22 medals in Rio, which is four more than they did in London in 2012. Team Canada was definitely in a celebratory mood as they marched into the stadium on Sunday, led by Olympic swimmer Penny Oleksiak, who racked up an impressive four medals in Rio. (Being only 16 years old, Oleksiak also became Canada's youngest flag-bearer while there.)
The mittens were a perfect complement to Team Canada's huge smiles as the Games wrapped up — and they're a great way to ensure Canada keeps bringing their best to the Olympics.