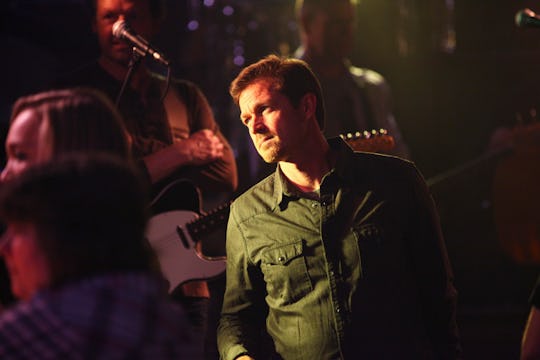 Mark Levine/ABC
Why Is Teddy Conrad In Jail On 'Nashville'? He's About To Make A Big Return
It's been awhile since we sent Teddy Conrad off to prison on Nashville, but with Maddie pursuing legal emancipation from her parents so that she can finally sign with Sony and be jettisoned into Juliette Barnes-style superstardom, Rayna is forced to call in the cavalry. She enlists Teddy's help in trying to reason with Maddie — though why Maddie would listen to her non-bio-dad when she already has such disdain for him is a mystery. But for those of you wondering, why is Teddy in jail on Nashville in the first place, the answer is your run of the mill corrupt mayor scandal.
Teddy got busted embezzling money from the city of Nashville to pay off a sex worker whom he accidentally thought he was dating. Oops. She tells Teddy she needs to skip town so she doesn't get taken down and to spare him the fallout of their affair being unveiled. Teddy attempts to embezzle $500,000 to pay for her relocation, but, unbeknownst to him, she's been compromised by the police and is wearing a wire during their conversation about it. If it sounds convoluted, that's because this plot line was conceived during the height of Nashville's soapy melodrama phase.
Mystifyingly, this is actually the second time Teddy has embezzled money. The first time, the problem went away with the help of Rayna's dad. But he's not around to help Teddy this time around, so Teddy gets put away in county jail. The last we saw him was when Daphne went to visit during a bout of My Dad's In Jail-related behavioral issues at school. They share a heartbreaking moment in which he confesses to his daughter that he's guilty, shattering her illusions of him and leaving her feeling pretty dumb and betrayed for getting into a fistfight at school defending him.
With Teddy firmly behind bars, it's unclear how exactly Rayna is going to get Maddie in to see him, when Maddie will barely let Rayna near her. A later episode synopsis teases that Rayna and Deacon's efforts to reconnect with Maddie and dissuade her from pursuing emancipation "are undermined by someone they thought was an ally." It seems like Teddy could be the mistaken ally in question. Last season saw him desperate to reconnect with Maddie after she found out that Deacon was her biological father and began drifting closer to him, half in rebellion and half out of curiosity.
But now that Deacon and Maddie's relationship is also tense, with Deacon taking Rayna's side regarding nixing Maddie's adolescent music career and Maddie's discomfort with Deacon's rage, it seems like perfect timing for safe, stable Teddy to swoop in and be Maddie's comfortable home base again. Keep in mind, it was Teddy who brokered Maddie's first early record deal with Edgehill in an effort to reconnect with her after the divorce by giving her something her mom had refused her. (Terrible dad move, bro.) So, as someone who has expressed support for Maddie's music career in the past, Teddy may not have been the best choice for Rayna and Deacon to try and reel Maddie back in to a life of high school talent shows. But we'll have to wait and see how this one plays out.