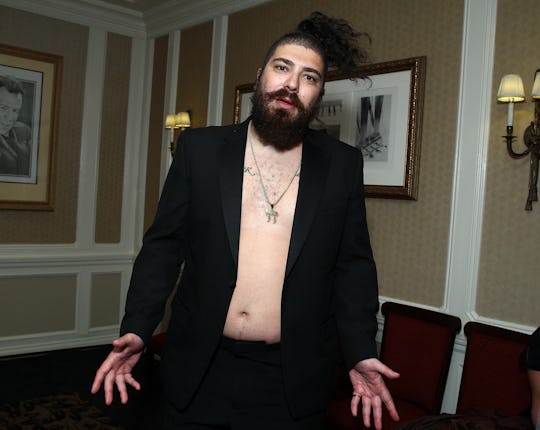 Astrid Stawiarz/Getty Images Entertainment/Getty Images
Why Is The Fat Jewish At The Billboard Music Awards?
If you were watching E!'s red carpet coverage of the Billboard Music Awards, you may have seen a certain face and wondered why is the Fat Jewish at the Billboard Music Awards? Well, there is a reason for his interview bombs. Josh "The Fat Jew" Ostrovsky is actually acting as E!'s social media correspondent for the event, updating people on red carpet happenings as the event unfolds.
The social media maven joined E! hosts Jason Kennedy and Sibley Scoles in covering the event. With his ponytail sticking straight up in the air (did anyone else get some serious Pippi Longstocking vibes?), the Fat Jew was interviewing celebrities and capturing pictures from the red carpet.
Haven't seen The Fat Jew before tonight and wondering who he is? Ostrovsky has made a name for himself thanks to his very popular Instagram account, which includes followers like Katy Perry and Snoop Dogg. Since then, he's snagged a book deal and sold TV shows to places such as Comedy Central and Amazon. He's been covering the music world for a while now: as host of the Crosby Press' An Intimate Conversation, he's interviewed musicians of all sorts.
As a social media success and an experienced interviewer of musicians, the Fat Jew isn't out of place on the Billboard Music Awards' red carpet, but he's still a little unfamiliar to those who aren't keyed into his brand of comedy on social media or haven't seen some of his online projects.
A few viewers chimed in on social media to ask who he was — or why, exactly, this stranger was lucky enough to be talking to their favorite celebrities on the red carpet.
The Fat Jew has been with E! since around 2012, when he told Billboard he joined the E! network. "I just got really busy," he said. "I was on this show on E! called 'The Daily 10,' where I interviewed shitty celebrities, and they wanted to go on tour and smoke dust and do weird shit."
I haven't managed to track down the Fat Jew's social media commentary on the red carpet yet, but I'm sure he'll be updating either his own social media or E!'s soon enough. Judging by his track record, I'm sure the Fat Jew will have plenty of eccentric, funny things to say about the night. Keep an eye on E!'s social media as the Fat Jew updates fans on the red carpet before the BBMAs kick off.