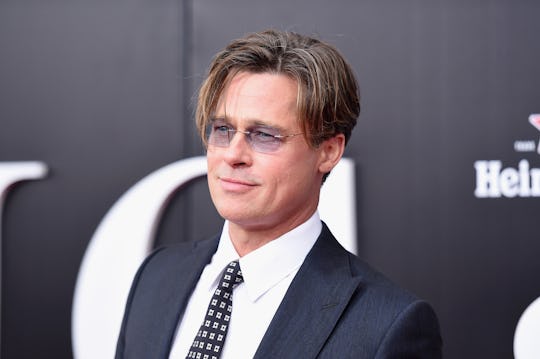 Jamie McCarthy/Getty Images Entertainment/Getty Images
Why Is The FBI Investigating Brad Pitt? The Alleged Child Abuse Happened In Airspace
Amid speculation over why one of Hollywood's most famous couples, Brad Pitt and Angelina Jolie, are divorcing, came shocking allegations of child abuse. On Wednesday, it was reported that Brad Pitt was under investigation for child abuse by the Los Angeles Police Department and the Los Angeles Department of Child Services, according to TMZ. Now the investigation is being referred over to the FBI. But why is the FBI investigating Brad Pitt?
Pitt allegedly was "verbally abusive" and "physical" with his children on a private plane, an unnamed source told TMZ. The source told TMZ that Pitt was drunk on the flight and "went wild, screaming and getting physical" at the kids. Pitt's representative has not responded to Romper's request for comment.
The source told TMZ the incident happened Wednesday, Sept. 14 and continued even after the plane landed. Witnesses say Pitt "continued his rant on the tarmac, and even tried leaving in one of the fuel trucks," TMZ reported. Jolie filed for divorce a few days later, on Sept. 20. She is seeking full custody of their six children, E! News reports.
TMZ spoke with sources at the Los Angeles Police Department, who told them that "because the incident occurred in the air, the FBI has jurisdiction." The LAPD's Abused Child Unit has closed its file on the case and is leaving the investigation to the FBI, according to TMZ.
An unnamed source close to Pitt spoke to TMZ about the allegations. "He takes the matter very seriously and says he did not commit any abuse of his children," the source said. "It's unfortunate that people involved are continuing to present him in the worst possible light."
Los Angeles police sources did not confirm whether the FBI would be handling the case, but did say that Pitt is not currently being investigated by the department. "LAPD is not handling any report of allegations of child abuse for Mr. Brad Pitt," Los Angeles Police Department Officer Jenny Houser told CNN.
Armand Montiel, a spokesperson for Los Angeles County Children and Family Services, told CNN that "DCFS is not allowed to confirm or deny any subject of allegations."
Reports also suggest that the Department of Child Services interviewed both Pitt and Jolie separately. However, Sgt. Barry Montgomery, of the Los Angeles Police Department, denied Pitt ever spoke to police, in an interview with The Hollywood Reporter:
We have no criminal investigation that we are actively pursuing. To my knowledge, [Pitt talking to police] never happened. And right now, that is where our office is. We are not investigating any case, nor do we have any allegations against Mr. Pitt. We understand how rumors get spun up, and hopefully we can put a few of them to rest. We have no investigation involving Mr. Pitt.
Pitt told People magazine about his concern for his children once news of the divorce was publicly released.
"I am very saddened by this, but what matters most now is the well-being of our kids," he said in the statement. "I kindly ask the press to give them the space they deserve during this challenging time."