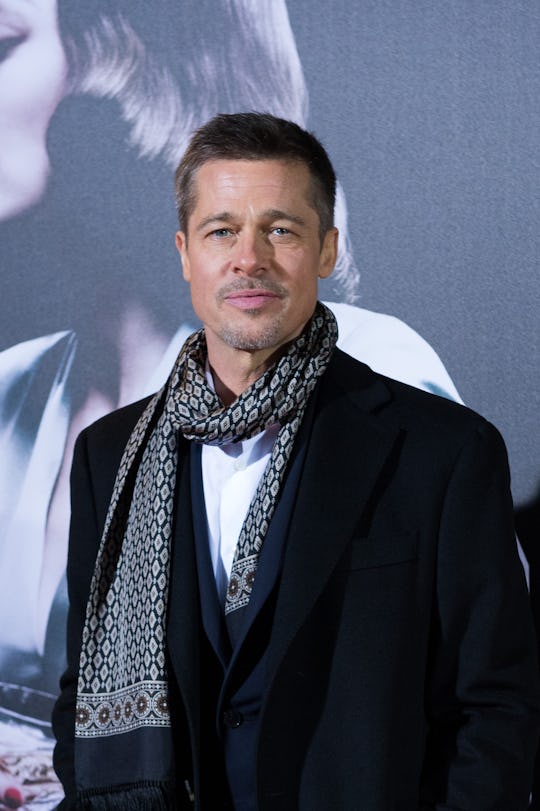 Carlos Alvarez/Getty Images Entertainment/Getty Images
Why Is The FBI No Longer Investigating Brad Pitt? He's Been Cleared From All Allegations
Since Angelina Jolie filed for divorce from Brad Pitt in September, their high-profile divorce has continued to play out in the public, with developing information about their custody case regarding their six children. In the latest development concerning their divorce, an alleged incident between Pitt and one of their children was being investigated by the FBI. But on Tuesday, the bureau confirmed that it has closed its investigation on the case, USA Today reported. So why is the FBI no longer investigating Pitt? Fans continue to follow the Pitt-Jolie high-profile divorce as new developments unfold. Pitt's attorney has not responded to Romper's request for comment regarding the allegations in Jolie's divorce request.
According to NBC News, the alleged episode took place on a private plane carrying Jolie, Pitt, and their children from Europe to Los Angeles in September. The plane reportedly stopped in Minnesota to refuel. Apparently, after reviewing the incident, the FBI decided to drop the case. The Los Angeles County Department of Children and Family Service previously cleared the actor of child abuse allegations, NBC News reported.
A spokesperson for the FBI released the following statement to Vanity Fair regarding the investigation:
In response to allegations made following a flight within the special aircraft jurisdiction of the United States which landed in Los Angeles carrying Mr. Brad Pitt and his children, the F.B.I. has conducted a review of the circumstances and will not pursue further investigation. No charges have been filed in this matter.
As TMZ reported back in September, Jolie filed for divorce, citing "irreconcilable differences" from Pitt listing Sept. 15 as the date of separation — reportedly the day after the alleged incident on the plane, according to The Chicago Tribune. The couple, considered a fan-favorite for many, have been together since 2004, and have been married for two years.
In September, Pitt released the following statement to People regarding the divorce:
I am very saddened by this, but what matters most now is the well being of our kids. I kindly ask the press to give them the space they deserve during this challenging time.
Jolie's manager, Geyer Kosinski, told E! News in September that Jolie was focused on the "best interest" of her family: "Angelina will always do what's in the best interest of taking care of her family," Kosinski said. "She appreciates everyone's understanding of their need for privacy at this time."
According to USA Today, Jolie requested sole custody of their children in her divorce filing, and Pitt pursued joint custody in his.