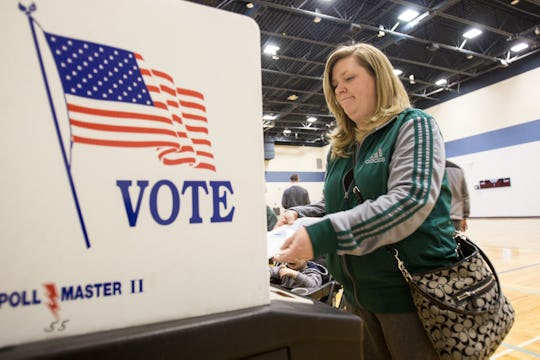 GEOFF ROBINS/AFP/Getty Images
Why Is The Florida Primary Important? It's A Great Testing Ground For The Big One In November
On Tuesday, five states — and one U.S. territory — will hold their primaries for the 2016 Presidential election season: Florida, Illinois, Missouri, North Carolina, Ohio, and the Northern Marina Islands (Republican only). And while every state and every vote matters (in theory), the Florida primary is particularly meaningful. But why is the Florida primary important?
Florida is a big state. Because of the size of Florida or, more accurately, the size of Florida's population, it is one of the top 10 states with the most electoral votes (beat out only by California, Texas, and New York, according to InfoPlease.com). And while electoral votes won't come into play until Tuesday, Nov. 8, Florida also has a substantial number of delegates — 246 Democratic delegates and 99 Republican delegates — up for grabs, according to Al.com. What makes the number of delegates even more important is that the GOP winner of the Florida primary will take all of those delegates. That's right: prior to March 15, GOP primaries used a proportional method to divide delegates amongst candidates, but according to Heavy, Florida will be the first major state to use the winner-take-all method, at least on the Republican side.
That means billionaire Donald Trump, Texas Sen. Ted Cruz, Florida Sen. Marco Rubio, or Ohio Gov. John Kasich will walk away from Florida with all 99 delegates in their pocket.
But that isn't the only reason Florida is important. In fact, according to Maggie Haberman and Emily Schultheis of Politico, Florida is the first state to really test a candidates "general election" viability, thanks to its very distinct regions (i.e. the Panhandle resembles the Deep South, the Miami-area is comprised predominately of Cubans — and New York transplants — and the Gulf side, my hometown, is made up of retirees and overpriced houses, according to The Week). Haberman and Schultheis wrote, according to The Week:
Campaigning in Florida is 'more comparable to running a general election than in any other early state,' making it an ideal testing ground.
And this, Quinnipiac University pollster Peter Brown notes, makes Florida a "good indicator of the [rest of the] country," according to The Week.
Barring any unexpected drop outs, Florida residents (and other Tuesday primary voters) will choose between Republicans Trump, Cruz, Rubio and Kasich and Democrats former Secretary of State Hillary Clinton and Vermont Sen. Bernie Sanders. (Though it is worth noting that Florida holds closed primaries, meaning that one must a registered Democrat or Republican in order to participate, and registered individuals must then vote for a candidate within their party, according to Heavy.)
Florida polls will open at 7 a.m. and will close at 7 p.m.