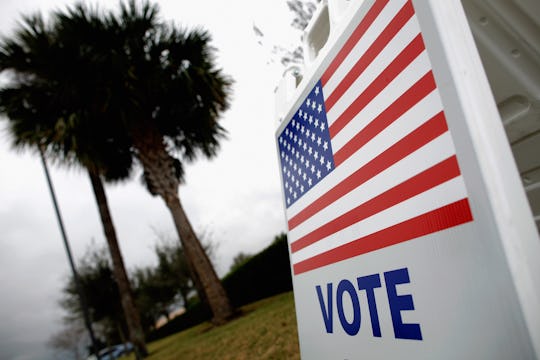 Chip Somodevilla/Getty Images News/Getty Images
Why Is The Florida Primary Important? There's A Lot At Stake In The Swing State
In fewer than 24 hours, Democrats and Republicans will take to the polls to vote in the Florida primary on Tuesday. Florida is one of five states where primary polls will be open, including Illinois, Missouri, North Carolina, and Ohio — so why is the Florida primary important? Florida's historical status as a swing state is certainly one reason; Politco predicted back in May of last year that Florida would be a key battleground state in the 2016 election cycle. Florida also allows early voting, giving both Democratic and Republican candidates the chance to amass more votes than just over a 12-hour single voting period in a day.
Florida is especially crucial for the GOP field of candidates, which currently consists of Texas Sen. Ted Cruz, Ohio Gov. John Kasich, Florida Sen. Marco Rubio, and business mogul Donald Trump. Trump leads handily in the current delegate count on the path to the nomination and Florida's status as a "winner-take-all" GOP primary state means Trump could get one state closer to clinching the nomination if he wins all 99 GOP delegates. On the Democratic side, Florida awards its candidates proportional delegates out of its 214, meaning that both former Secretary of State Hillary Clinton and Vermont Sen. Bernie Sanders will each go home with delegates.
A Critical Moment For Rubio
Now that former Florida Gov. Jeb Bush is no longer in the race, Rubio's campaign staff hopes that Bush supporters might swing their way. Given that Florida is his home state, it's not just a contest of pride for Rubio: If Rubio loses Florida and its 99 delegates, it could very well cost him any chance he has left at securing the GOP nomination in July. Rubio sits at third place in the GOP field of four, with only 163 delegates secured so far — and he still has a long way to go in order to reach the 1,237 GOP delegate count he needs to snag the nomination.
A Safe Bet For Clinton
Clinton was predicted to take the share of Florida delegates over Sanders on Tuesday. In a poll conducted just one week before the Florida primary, Clinton leads Sanders by more than two to one in the Sunshine State. Clinton is expected to do well with older and African-American voters — two demographics within which she has performed well and for which Florida has large turnouts. Sanders only recently had his first campaign event in Florida a week ago, despite campaigning for more than 10 months. From Politico:
It reflected a tactical decision to all but cede the South to Hillary Clinton and her decades of relationship-building there, part of a post-Nevada strategic recalibration that turned the campaign's attention to states voting later in the calendar.
Polls will open across Florida at 7 a.m. and close at 7 p.m on Tuesday.