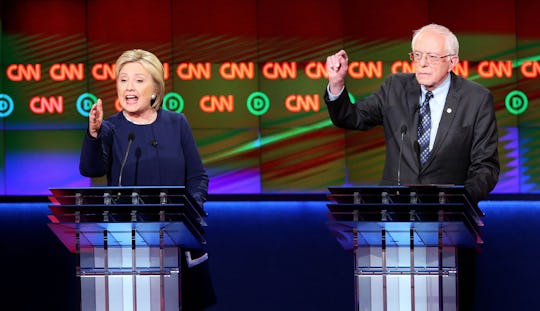 Scott Olson/Getty Images News/Getty Images
Why Is The Michigan Primary So Important? It's Make-Or-Break For The Democratic Candidates
If you watch too much cable news or read anything on the Internet during an election year (hello, everyone), it can start to seem like every primary is a make-or-break moment. Tuesday's primaries are no different. But why the Michigan primary is so important this year isn't just a symptom of news media wanting your attention. It's actually a pretty big deal for some candidates. It all comes down to how many delegates a state offers in a primary.
Michigan is a big deal on Tuesday because it's the same kind of delegate haul as Super Tuesday, when sixteen states voted. There are 147 delegates for the Democrats and 59 for the Republicans up for grabs in Michigan alone. Every election year, Michigan is a big deal, but the way that the primaries have turned out so far in 2016, Michigan is even more important. Especially for candidates like Vermont Sen. Bernie Sanders. As it stands, Sanders has 499 delegates to former Secretary of State Hillary Clinton's 1,134. To win the nomination, a Democratic candidate needs a total of 2,383 delegates. If Sanders beats Clinton in Michigan, along with Mississippi, that could give him a nice confidence boost to stay in the game. It would also show that the leftist senator could win in a more diverse state, as opposed to "easy" wins like his home state of Vermont.
But it's not just the delegate count that makes the state interesting. Michigan is the home to Flint, which has undergone a toxic water crisis this past year. It's also a state in which manufacturing and the 2008 automobile industry bailout are big issues. The candidates have been playing these cards heavily. Both Sanders and Clinton have called for Flint Mayor Rick Snyder to resign over the water crisis. During the debate on Sunday night, the two candidates also went head to head over the auto bailout and other domestic economic issues that pull on the heartstrings of Michigan voters.
Think of it this way: Michigan comes with as much baggage as liking your most recent ex's wedding photos on Facebook. There are layers and layers of meaning regarding who comes out to vote and who those voters choose out of the two Democratic candidates. It's a state in which voter turnout, a phrase political pundits often throw around on primary days, will be very high and very indicative of how a candidate can perform in the upcoming general election.
Sanders was definitely behind Clinton Tuesday afternoon, but winning Michigan would give him a reason to stick it out just a little bit longer because of the demographics and issues at stake. The state of Michigan's economy could be a good or bad thing for both Democratic candidates. If Sanders takes the state by a long shot, it means Clinton campaign staffers will be wringing their hands Wednesday morning. If Clinton takes it, Sanders supporters might have to start facing some hard truths about their chances of winning the nomination.
On the other side of the aisle, Michigan will also serve as a testing ground for frontrunner Donald Trump and other Republicans. If the voter profile is similar to 2012, according to the Los Angeles Times, the Republican voter base in Michigan will be "mostly male, white and high school-educated," which means that Trump should come out as the winner. That adds a whole other layer of baggage when it comes to nominating a Democratic candidate.
For both Republicans and Democrats, Tuesday is a crucial night in Michigan. Think of it as another huge audition for November's election. If you've been wishing on a star for something to surprise you during this primary cycle, tonight's the last chance to have your mind blown.