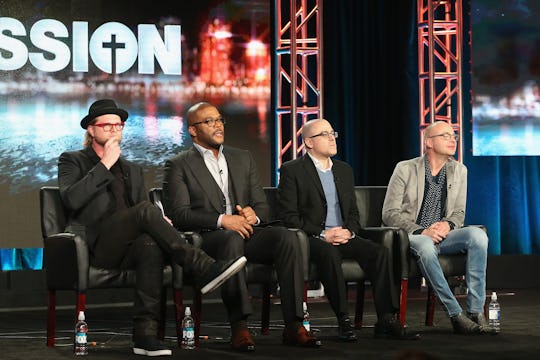 Frederick M. Brown/Getty Images Entertainment/Getty Images
Why Is 'The Passion' Set In New Orleans? The City Is Psyched To Host The Event
On Sunday, March 20, the city of New Orleans will host an event unlike any other. Fox is producing The Passion, a live, outdoor musical telling the story of Jesus Christ's death. It's ambitious, to be sure, and some are wondering why The Passion is set in New Orleans. Mayor Mitch Landrieu told The Times-Picayune that the city is happy to play host.
"One of the reasons our economy continues to grow is due to our continued focus on creating opportunities for our cultural economy to thrive, and this production announcement is another example of our success," he said.
In a promotional video, narrator Tyler Perry, a New Orleans native, said, "I think New Orleans is the best place to have The Passion, and for one reason: literally, the town rose again." Executive producer Adam Anders concurred: "The Superdome alone is kind of a symbol of suffering in this country. For us, The Passion is about suffering and redemption. It's just the perfect, perfect match." Grammy Award winner Seal also added that, as the host of Mardi Gras, New Orleans is well-equipped to handle a big procession — the centerpiece of the production is a crowd of hundreds carrying a 20-foot glowing cross through the city.
The musical will air mostly-live, using nine different shooting locations throughout the city. Mostly-live, because some scenes had to be taped in advance due to time constraints, executive producer Mark Bracco told Variety. "It will all play as one big live experience, even though there are a few scenes that we have shot ahead of time, just because there was no possibility of getting from location to location within a commercial break." But Tyler Perry will be narrating live from Woldenberg Park, flanked by a live band and choir. During the broadcast, he'll toss to a reporter who will interview bystanders. It's unclear if they're meant to pretend that the production is real, or if they'll be breaking the fourth wall for fan reactions. Either way, it should be entertaining.
Even if the actors get everything right, there's still a lot that could go wrong during a live, outdoor show in a real, functioning city. During a press tour, Perry was asked what will happen if a siren drowns out his lines. "In those moments, I'll just say, 'Jesus called an ambulance,'" he said, according to The Wrap. And what about acts of God? Bracco told Variety that he has hundreds of clear umbrellas at the ready. "Sometimes, a little bit of rain can make a shot look pretty. Just a little bit — not too much!" Good luck, New Orleans. You're going to need it.