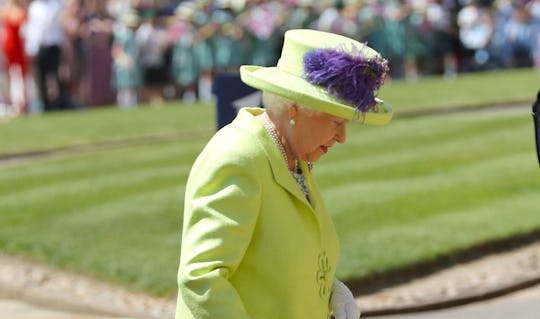 WPA Pool/Getty Images Entertainment/Getty Images
Here's Why The Queen Wore Lime Green ToThe Royal Wedding
Meghan Markle might be American, but her wedding to Prince Harry is a thoroughly British affair. For one, she's skipped the all-adult bridal party in favor of having children serve as her attendants, and hats are actually a dress code requirement for female guests. As a result, St. George's Chapel is filled with women in seriously fabulous headwear, but there's one guest whose hat royal watchers were particularly curious to see: the Queen's. Why is the Queen wearing lime green? Though it may not exactly seem to be that exciting a detail, the color the Queen chooses for her outfit is actually a well-thought-out choice, and one that is heavily influenced by royal dress code rules. It also overlapped with the color chosen by Meghan Markle's mom.
As with the birth of Prince Louis in April, the royal wedding gave Brits an excuse to bet on pretty much every detail of the event, from Markle's dress designer, to whether or not Prince Harry was going to show up clean shaven, and, yep, even what color the Queen's hat was going to be. Those who chose green might be happy to have a little extra money in their pocket today, but etiquette rules did help narrow down the field a little: according to The Sun, the Queen specifically shuns muted colors in favor of "vibrant, jewel-toned outfits," as they help ensure she'll stand out, and be easily spotted by onlookers.
Ahead of the royal wedding, odds favored blue or green, according to The Express, and though it was impossible to know for sure ahead of time exactly which color she would pick, there were some that at least seemed easy to eliminate. White and cream were obviously be no-go colors at a wedding, even for the Queen, as was black, which is worn by royals only at somber events, like memorials. The Queen wore yellow to Prince William's 2011 wedding to Kate Middleton, according to CBS News, making it less likely that she was going to choose it again, and while she is definitely a fan of pink, she already chose the color for her Easter appearance at St. George's Chapel in April.
At the same time, there are also some colors she simply seems to favor more than others. In 2012, Vogue analyzed the Queen's outfit choices to see how often she wears various colors, according to The Daily Mail, and by the magazine's calculations, she actually wore blue nearly three times more often than any other color. Green was the monarch's next most popular choice, followed closely behind by purple and pink, while red, orange and yellow, tied for least popular (at least ahead of black and beige, which the Queen chose only 2 and 1 percent of the time, respectively).
In other words, the Queen likely picked green for Prince Harry and Meghan Markle's wedding simply because it's a color she likes to wear, and it's also one that made sense given the occasion. But in certain situations, the Queen's outfit will actually appear to communicate a particular message.
When she's traveling, for example, the monarch will most often choose a color that reflects the country she is visiting, like when she wore jade green during a 2011 visit to Ireland, according to Marie Claire. And in June 2017, when the Queen gave a speech to the British Parliament many felt her blue and yellow hat was a not-so-subtle reference to the EU flag, according to BBC News, as new laws pertaining to Brexit were the primary item on her agenda.
Although it doesn't necessarily seem like it should be a big deal whether the Queen's hat is blue or green or purple, the reality is that when the head of Britain and the Commonwealth shows up to a wedding, every detail matters. In fact, it seems like the only person whose outfit decision actually matters more than the Queen's is Markle's wedding dress.