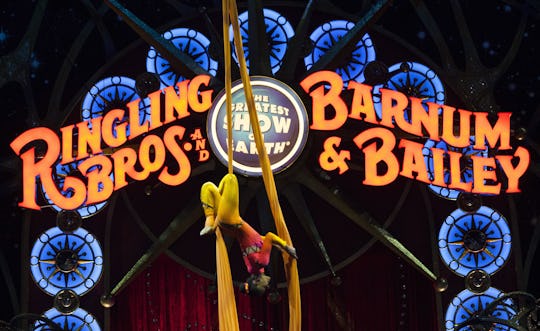 ANDREW CABALLERO-REYNOLDS/AFP/Getty Images
The Ringling Bros. Circus Is Shutting Down
The circus is one of those things that manages to evoke some sense of nostalgia in most people. For decades, clowns, animals, and acrobatic performers have all been coming together to entertain families — until now. On Saturday, Ringling Bros. and Barnum & Bailey announced that the iconic circus of the same name would be shutting down after 146 years of performances. But why is the Ringling Bros. Circus shutting down? Unfortunately, the cost to run a circus is becoming too expensive.
The ending of the Ringling Bros. and Barnum & Bailey's circus is a historically important moment for those who grew up going to the circus, but it's not wholly unexpected. According to The Guardian the circus, which boasted the slogan "The Greatest Show on Earth," will be ceasing all performances in 2017 after more than a decade of being in business.
So what exactly was behind the shutdown? According to a statement from the show's producer, Kenneth Feld, "ticket sales have been declining" which, combined with "high operating costs," made the circus "unsustainable" to continue to run.
Feld continued his reasoning for ending the circus in the statement, posted to the circus' website:
Nearly 50 years ago my father founded our company with the acquisition of Ringling Bros. The circus and its people have continually been a source of inspiration and joy to my family and me, which is why this is a tough business decision to make. The decision was even more difficult because of the amazing fans that have become part of our extended circus family over the years, and we are extremely grateful to the millions who have made Ringling Bros. part of their lives for generations. We know Ringling Bros. isn't our family business but your family tradition.
According to CNN, the Ringling Bros. circus was started in 1884 in Baraboo, Wisconsin by five of the seven Ringling Brothers. By the 1930s, according to Biography, the brothers "were among the most famous American entrepreneurs" for their work on the circus tour. Shortly after its inception, the circus introduced the first elephant into its acts, according to NPR, and had been using elephants in the show until 2016. In May of last year, according to The Guardian, the circus got rid of elephants in its show amid criticism from animal rights activists and paid a six-figure fine pertaining to the elephants' treatment "several years before ending" the performances, although the circus "admitted no wrongdoing." According to Feld's statement, getting rid of the elephants contributed to those declining ticket sale prices.
But those looking to enjoy the century-long circus can do so one last time. The Ringling Bros. and Barnum & Bailey circus will continue to perform two shows — Ringling Bros. Circus Xtreme and Ringling Bros. Out Of This World — along the East Coast of the United States until May. The circus' last performance will be held in Uniondale, New York on May 21.