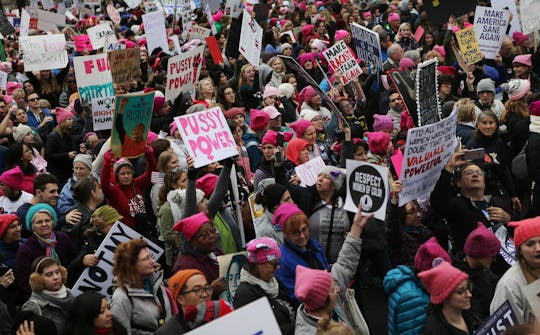 Mario Tama/Getty Images News/Getty Images
Here's Why The Women's March Is In Las Vegas For 2018
On January 21, 2017, half a million people gathered in Washington, D.C. for the Women's March, and millions more marched in sister events worldwide. This month, hundreds of anniversary celebrations will be held, but the main event isn't in Washington. So why is the Women's March in Las Vegas this year? It wasn't a matter of convenience; the city is representative of the issues the organization plans to take on in 2018.
This year's theme is "Power to the Polls," a celebration of the progressive wins made during the November 2017 local elections that will kick off a national tour aimed at building on those victories. The organizers issued a statement detailing their goals for the new year:
The national voter registration tour will target swing states to register new voters, engage impacted communities, harness our collective energy to advocate for policies and candidates that reflect our values, and collaborate with our partners to elect more women and progressives candidates to office. The coordinated campaign will build upon Women's March's ongoing work uplifting the voices and campaigns of the nation''s most marginalized communities to create transformative social and political change.
Nevada is a swing state that could flip back to blue this year, and the state recently suffered both a mass shooting and sexual misconduct allegations against a politician, two disturbingly common issues that progressives aim to combat.
Progressives have made significant gains since the first Women's March; the group's co-chair, Linda Sarsour, pointed to the recent defeat of Alabama Senate candidate Roy Moore as inspiration for the work in the days to come:
In Alabama, Black women delivered as they always do. In addition to being willing to follow and support Black women, we all must commit to fighting the systemic voter suppression laws that inhibit so many of our communities from voting. This campaign will mobilize a new group of activists to create accessible power to our voting polls.
In November, 11 progressive women defeated Republican men in the Virginia House of Delegates alone. Among them were the first Asian American woman, the first openly gay woman, the first openly transgender woman, and the two first Latina woman to serve in their roles. There were a number of historical wins across the nation, as well; several cities elected women, transgender people, and people of color for the first time, including the first openly transgender woman of color to hold any public office in the United States, according to Vox.
And there's more new blood on the way. One silver lining to the Trump presidency is that it's spurred women to run for office in record numbers. Axios reported that since the 2016 election, more than 15,000 women have contacted She Should Run, a nonpartisan organization that recruits and trains women to run for office, and more than 19,000 have contacted EMILY's List, a group that dedicated to getting pro-choice Democratic women in office.
Power to the Polls aims to harness the passion of the Women's March to effect real change at the polls, making sure that marginalized people have the opportunity to run, and to vote. "Women's March has created a powerful movement that has ignited thousands of activists and new leaders," said Women's March co-president Tamika D. Mallory in a statement:
In 2018, we must turn our work into action ahead of the midterms. This new initiative will address voter registration and voter suppression head on. We marched for justice in DC, we created our plan in Detroit and now we're bringing the power of the polls to Nevada.
If you can't make it out to Vegas, there are hundreds sister marches being held nationwide, and plenty of other ways to take action from home. The fight is far from over.
Check out Romper's new video series, Romper's Doula Diaries:
Watch full episodes of Romper's Doula Diaries on Facebook Watch.