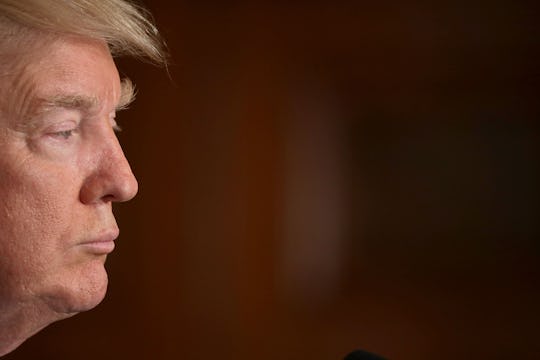 Chip Somodevilla/Getty Images News/Getty Images
Why Is Trump Scared Of Georgia's Special Election?
On Tuesday, voters in Georgia's 6th district head to the polls in a special election to fill the congressional seat left vacant by former Rep. Tom Price, who Trump appointed to be his Secretary of Health and Human Services. While a special election in the northern suburbs of Atlanta may seem like NBD, Republicans — and especially President Trump — are paying close attention to Tuesday's results. Why is Trump scared of Georgia's special election? Trump only led the district by 1 percent during the presidential election, and it stands a real chance of flipping to Democrats for the first time in 38 years.
With 18 candidates, the race for Georgia's 6th district seat seems as crowded as the Republican presidential primary last year. But of those 18 candidates, a 30-year-old political newcomer is making waves in the historically deep red district. Jon Ossoff, a Democrat, is a documentary filmmaker who has become the clear frontrunner for Georgia's 6th, where polling has Ossoff with a staggering 45 percent of the vote within the pack of 18 candidates that includes 11 Republicans, four other Democrats, and two running as Independent.
What makes Ossoff's rise so troubling for Republicans is that many voters have called Georgia's special election a referendum on Trump himself. And it's obvious that Ossoff has gotten under Trump's skin, with the president tweeting out his obviously unfavorable opinion of Ossoff. Meanwhile, Ossoff has barely mentioned Trump by name on the campaign trail.
Democrats have rallied behind Ossoff, with donor money pouring into his campaign. Ossoff raised more than $8 million during the first quarter of the year, and, as The Atlanta Journal-Constitution noted, more than 95 percent of donations to Ossoff's campaign came from outside of Georgia. That's an awful lot of money for just one congressional district in the middle of Georgia, and it's a clear sign that Democrats are deeply invested in turning the tide for the 2018 midterm elections by flipping Georgia's 6th district.
Just how red is Georgia's 6th district? Former House Speaker Newt Gingrich held the district for 20 years straight before retiring in 1999. The district has held Republican since then. Rep. Johnny Isakson was elected in 1999 to fill Gingrich's vacancy. When Isakson successfully ran for senator, Georgians voted in Rep. Tom Price in 2005. Red runs exceptionally deep in Georgia's 6th, which is why House Republicans are paying close attention to the very real possibility that they may lose one of their seats to Democrats on Tuesday.
As Democratic campaigner Scott Dworkin put it on Twitter Tuesday morning, "I haven't seen this energy since 2008." Those are pretty powerful words for an otherwise small blip on the political radar. You would think that all of this excitement and momentum for a Congressional special election would be beyond Trump. But when the president starts tweeting, you know he's running scared — and he should be, because the resistance is just getting started: It could start with Ossoff, then continue right through 2018 midterms.