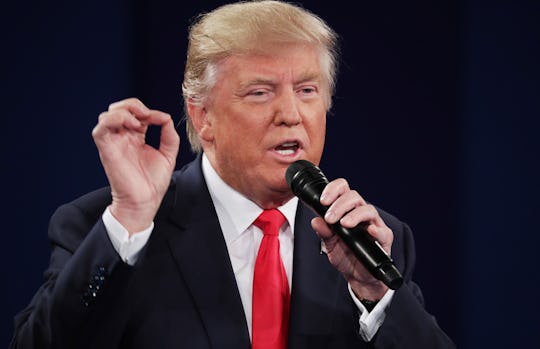 Chip Somodevilla/Getty Images News/Getty Images
Why Is Trump Sniffing? The Second Presidential Debate Is A Lot Like The First
While the second presidential debate at Washington University in St. Louis, MO on Sunday night was poised to be even more dramatic than the first, it's safe to say that some things never change. Yes, there was the leaked audio of Donald Trump saying explicit and dangerous things about women. Yes, it was a town hall forum. However, the Republican presidential nominee left many viewers wondering the same question they were asking themselves during the first presidential debate. "Why is Trump sniffing?" I mean, honestly, you'd think a man worth a reported 3.7 billion dollars could afford allergy medicine or some tissues, at least. I mean, at what point do we all collectively — as a nation — ask Trump to just get it together and blow his nose?
Perhaps Trump's sniffles are the most obvious because of his endless attacks against his opponent, Hillary Clinton. After Clinton was diagnosed with pneumonia, Trump lead a rather relentless and baseless attack against Clinton's health, claiming during a political rally, "She can't even make it to her car." He has also attacked her stamina, and told his supporters, "It's been full-time. All the time. You see all the days off that Hillary takes? Day off, day off, day off. All those day offs...isn't it tough?
However, it seems to be Trump whose health is in question now. He's either battling a cold that refuses to quit or we've all found his poker game "tell" and should exploit it (immediately). Either way, the sniffling doesn't seem to be ending any time soon.
Of course, debate viewers were quick to pick up on the repeat sniffling, and took to Twitter to voice their concern, their amusement, and their all-around bewilderment. Here are just a few of the Twitter reactions, because the internet is nothing if not relentlessly entertaining:
Of course, I guess we could all do what the internet has given us the power to do and become Google doctors and diagnose Trump ourselves. Clearly, from the tweets above, we wouldn't be the first or the last. However, given the many other issues surrounding this current presidential election, it's probably best to focus on what really matters and just take our comical wins when and where we can. So, with that in mind, Mr. Trump: if you could keep the sniffles up, we would really appreciate it. Voters can endlessly argue what you may or may not be, but one thing is for certain: you're internet gold.