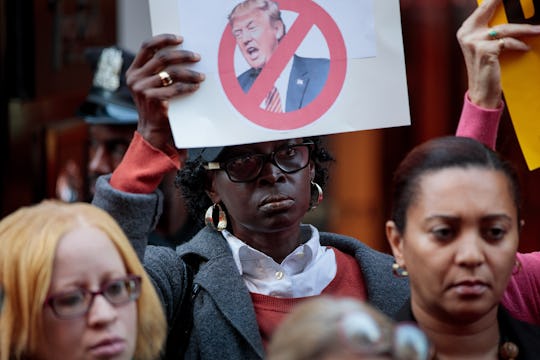 Drew Angerer/Getty Images News/Getty Images
Why Is Trump's Rape-Accuser Choosing To Reveal Her Identity Now? She's Facing Threats
There are several allegations of sexual assault against Republican presidential nominee but the most shocking is an allegation from a woman who claims Donald Trump raped her when she was just 13 years old. Much like when other women came forward, voters on social media have been questioning why Donald Trump's rape accuser is revealing her identity now, in the last days before the election. The woman, who remains anonymous after her press conference was canceled due to threats on Wednesday, alleges that Trump forced himself on her at a 1994 sex party at the house of disgraced financier Jeffrey Epstein, who previously plead guilty and served jail time for soliciting sex from minors. The woman claims that Trump raped her and also hit her. The Trump campaign did not immediately return Romper's request for comment on the allegations.
In her affidavit, the woman claims that Trump allegedly threatened to kill her if she told anyone, and that she was fearful for her life, according to her lawyer Lisa Bloom. Although the statute of limitations on the alleged assault — five years in the state of New York — has passed, the woman's previous lawyer Thomas Meagher, argued that she was threatened she should have more time to file suit. Her story is corroborated by another anonymous woman, a party planner working for Epstein at the time.
Jane Doe was supposed to appear in public for the first time on Wednesday, but according to her representation, she allegedly received death threats and was harassed to the point that she decided to back out of the event, out of fear for her safety. Bloom tweeted, that her client "decided she [was] too afraid to show her face."
As is common with sexual assault allegations, there are many people blaming the alleged victim for not coming forward sooner and then backing out. But, according to her suit, the alleged victim was afraid of Trump. In her suit, the party planner who corroborates Doe's story claims that she, too, was afraid of Epstein and Trump, and subsequently remained silent. In the suit, Jane Doe claims:
I am coming forward to swear to the truthfulness of the physical and sexual abuse that I personally witnessed of minor females at the hands of Mr. Trump and Mr. Epstein . . . I swear to these facts under the penalty for perjury even though I fully understand that the life of myself and my family is now in grave danger.
Jane Doe claims that Trump told her that she would "end up like Maria," another girl from Epstein's sex parties that later reportedly disappeared.
For his part, although he and his camp have repeatedly denied all sexual assault claims against him, Trump does not deny being friends with Epstein. Before Epstein went to prison, Trump told New York Magazine in an interview:
I've known Jeff for fifteen years. Terrific guy. He's a lot of fun to be with. It is even said that he likes beautiful women as much as I do, and many of them are on the younger side. No doubt about it — Jeffrey enjoys his social life.
The story hasn't been covered much mainly because the woman is anonymous, and early on, her backers and legal team had a difficult relationship with the press and getting the story out. Hopefully Jane Doe will have the courage to come forward, if that's what she wants to do. But bullying an alleged victim with death threats is no way to make a story go away.