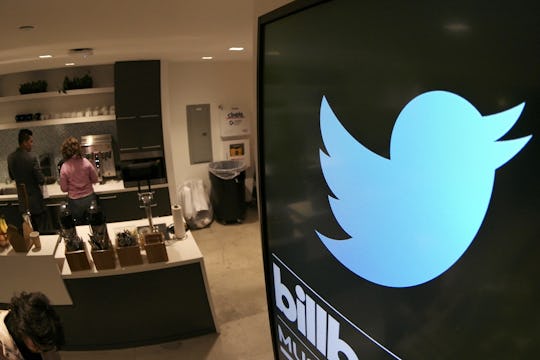 JONATHAN ALCORN/AFP/Getty Images
Why Is Twitter Down? The Problems Began Thursday Afternoon
After users were seeing a "Something is technically wrong" message, many started worrying. Why is Twitter down? The problems began at 2:14 p.m. Eastern Time on Thursday, according to Down Detector. Within ten minutes, users started reporting that their feeds were back up and working normally.
A representative for Twitter responded to a request for comment to say that as of 2:57 p.m. ET, "the issue has been resolved." The full statement from Twitter published online reads:
Between 11:13 - 11:26 PDT, some users may have experienced problems reaching twitter.com and using the twitter mobile apps. This issue was as a result of an internal error, and is now resolved. We apologize for any inconvenience, and thanks for your patience!
Back in January, Twitter dealt with a much bigger service disruption; according to The New York Times, Twitter went down for many at 3 a.m. Eastern Time and the problems weren't resolved until 1 p.m. Twitter claimed that the root of the issue was a change in the code. Today's service disruption was much shorter. A Twitter outage map on Down Detector indicated that the problems primarily impacted users on the East Coast of the United States and in parts of Europe and South America. Twitter users from all over the world went online to share when the site started working for them again, from Louisville, Kentucky to Aberdeenshire, Scotland. Though the outage may have been a mild inconvenience, it seems as though Twitter took care of it.
When a website goes down, it can be unclear whether it's an issue with an individual's device or a widespread problem. The next time it appears that Twitter isn't working, there are a few ways to find out how many people are seeing the same error message. Websites such as Down Detector and DownRightNow offer updates in real time; Down Detector leans heavily on user comments to determine what's happening. For those who like to get technical, Twitter's API Status page keeps visitors updated on which services and websites are working and which ones are down. It also provides an overview of the performance and availability history of different services; if Twitter seemed to be acting up on a certain day, a user can find out if the issue was linked to a bigger problem.
The good news: Though users may see some residual #twitterisdown tweets, it appears as though there's nothing more to worry about.