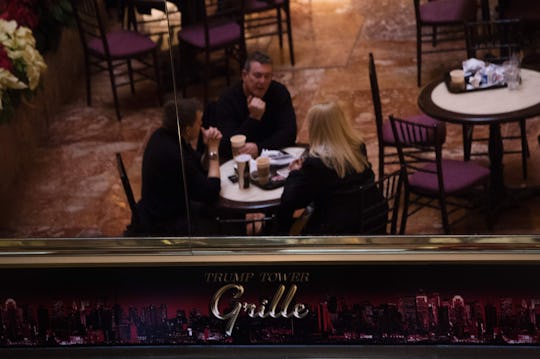 JIM WATSON/AFP/Getty Images
Why Is 'Vanity Fair's Trump Grill Review Such A Big Deal? It Has Reignited An Old Feud
On Wednesday, Vanity Fair writer Tina Nguyen published a hilarious article entitled "Trump Grill Could Be the Worst Restaurant in America." While the internet is overflowing with articles criticizing President-elect Donald Trump, he chose to respond to this one in particular with an angry tweet, which left some wondering why the Vanity Fair Trump Grill review is such a big deal. Trump's tweet didn't mention the author, but he did call out Vanity Fair's editor-in-chief, Graydon Carter, and according to Eater, Trump's had it out for him for years.
Some may recognize Carter as the man who coined the term "short-fingered vulgarian" in Spy magazine decades ago, a very specific slur for Trump. Carter also happens to be a restaurateur, and has owned a series of successful high-end New York City eateries that Trump is fond of bashing. One restaurant, the Waverly Inn, even has Trump's "review" printed at the top of their menu. "Worst food in city," it proudly proclaims. It seems that Trump can dish out it (restaurateur pun most definitely not intended), but he can't take it. Carter seems to have taken the same tack with Trump's latest tweet, as the Vanity Fair subscription page now brags that it's "The 'Way down, big trouble, dead!" magazine Trump doesn't want you to read."
But don't let the feud distract you from the actual article, which you really should read in its entirety. Throughout the review, Nguyen pokes fun at Trump Grill's inability to decide which way it's spelled (an odd "Grille" pops up here and there) and the similarities between the restaurant and its namesake. Both, she wrote, are a "cheap version of rich," a phrase which should be cross-stitched onto a pillow and sent to Trump for Christmas, in my opinion.
Nguyen savages everything about Trump Grill, from the decor to the menus, and of course the food and drink. The Szechuan dumplings are described as "flaccid" and "gray," a filet mignon is compared to a victim of a fatal car accident, and the Gold Label Burger got perhaps the worst treatment: Nguyen compared it unfavorably to a pig's eyeball she once ate, and calls it a "sad little meat thing" that was "hiding its shame under a slice of melted orange cheese," which coincidentally is my new nickname for Vice President-elect Mike Pence. Be sure to read the full review before Jan. 20, when it may very well disappear.