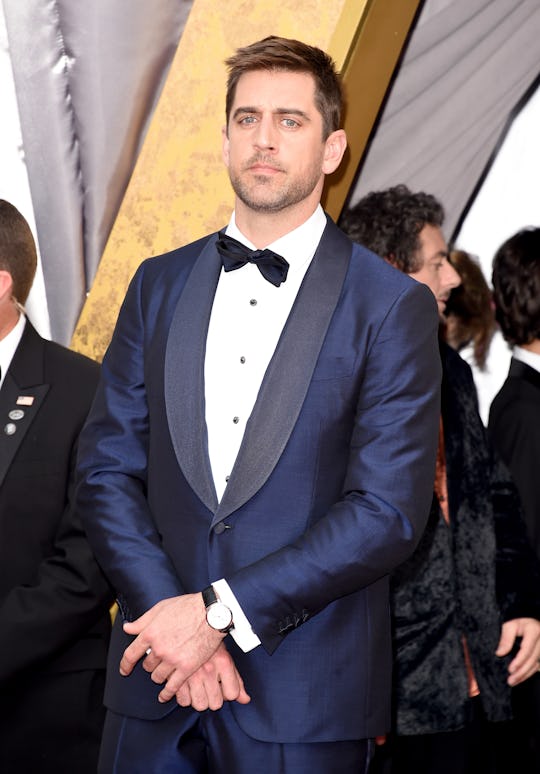 Jason Merritt/Getty Images Entertainment/Getty Images
Why Isn't Aaron Rodgers Going To Be On 'The Bachelorette'? Jordan Tells All
If you've been keeping up with The Bachelorette, you know that hometown dates are right around the corner. On Monday's episode, JoJo chooses Jordan as one of the lucky four who will take her home to meet the family, but things took a bit of a turn during a serious discussion moving forward, leading to the question — why isn't Aaron Rodgers going to be on The Bachelorette?
After sending not one, but two guys home last week, the latest episode of The Bachelorette gave the remaining guys a little bit of a break. As Chris Harrison explained in the beginning of the episode, there would be no roses to be given during the one-on-one dates this week, meaning the guys who scored solo time with JoJo were totally safe from elimination.
Season frontrunner Jordan Rodgers, was of course one of the guys to snag a coveted one-on-one, which means that JoJo is officially set to meet the Rodgers family. So are we finally going to get a glimpse of Jordan's famous NFL brother, Aaron? Sorry to burst your bubble, but it isn't likely.
During his date with JoJo, Jordan opened up about his relationship with his brother. When JoJo asked about who in the family she should be expecting to meet, Jordan revealed that his middle brother, Aaron, will not be present to meet her. Much to many people's surprise, Jordan explained that he doesn't really have a relationship with his famous brother, and that he doesn't even know about his competing on The Bachelorette. Pretty shocking, I know. He goes on to explain that the two barely even speak, and that "it's just the way he has chosen to live life," insinuating that Aaron isn't very close with the family at all. So. Sad. I mean I get it, he's a superstar Super Bowl winning quarterback and all and he's probably really busy, but you'd think he would make an appearance just once to support his brother. Jordan does assure us, though, that he has no hard feelings towards the whole thing and that he does, indeed, love his brother.
Many fans on Twitter were pretty shocked to learn of Jordan and Aaron's strained relationship, as was I.
While others aren't so sure he's telling the truth...
Here's to hoping Aaron Rodgers makes a surprise appearance!