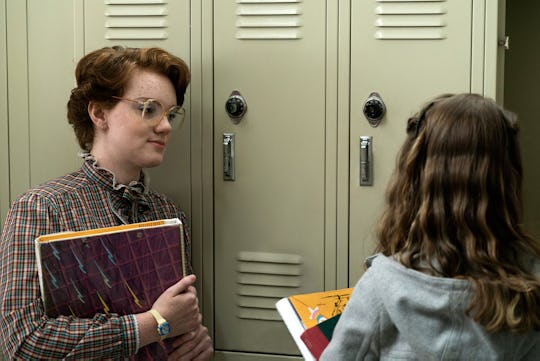 Curtis Baker/Netflix
Fans Still Want #JusticeForBarb In 'Stranger Things' Season 2
Good news everybody! All of your favorite characters are returning for the second season of Stranger Things! Well, almost all of your favorite characters are returning. As the season progresses, many of you will undoubtedly start wondering: why isn't Barb in Stranger Things Season 2? Believe me, I understand this notion. However, let's not forget when she was last seen on our screens in the form of a lifeless corpse. (RIP Forever.) Personally, I don't think I can ever forget watching demon slugs crawl out of her lifeless body in the pool of the Upside Down. Seriously, I still shudder when I think about it. But that is not to say that Barb is forgotten in Season 2.
Rather unexpectedly, Barb became the internet's favorite character on Stranger Things after her untimely death just a few episodes in. Poor Barb was just trying to give her friend Nancy some much-needed real talk when she was left all alone near the pool — and then dragged into the Upside Down and killed in a really terrible way. Fans on the internet were incensed that the whole town seemed to be out looking for Will, while nobody but Nancy (belatedly) seemed to wonder at all what happened to Barb. Hence, the birth of the hashtag #JusticeForBarb, tons of fan art, and a thriving economy of Barb-themed merchandise. Even the actor who played the part, Shannon Purser, was surprised by the reception.
Many of the resultant articles about Barb posit that the world fell in love with her because she seems like an actual real person. Take me, for example. I'm not a Nancy. I am a Barb. Barb gets sucked into the Upside Down when her thinner and prettier best friend abandons her to go make-out with a boy at the lame party she dragged her to. Minus the Upside Down part, I have lived that exact moment in high school. The world loves Barb because we are all Barb in some way. "My intention with Barb was to put as much of myself and the reality of my high school experience into her, and I think that more people than not feel a little bit weird in high school," Purser told the New York Daily News.
Luckily, the show's creators Matthew and Ross Duffer have heard the world's cries for justice for our favorite character. I highly doubt that Barb will rise from the dead, but she will still be present in the minds and hearts of the characters in Season 2. In an interview with IGN a year ago, Matt Duffer said that while she probably wouldn't be reappearing literally, she would still be a part of the story. "We'll make sure there's some justice for Barb," he said. "People get very frustrated, understandably, that the town doesn't seem to be really dealing with Barb. That stuff is all happening. We're just not spending any screen time on it." So at least it's clear now that the Duffers intended on dealing with Barb from the get go.
In an interview with Entertainment Weekly, Natalia Dyer, who plays Barb's best friend Nancy, said that, "Especially this season, Barb's a big part of Nancy's story line and that drive to — I don't know how to say it otherwise — to find justice." Hopefully that will do something to appease all the fans who felt that Barb got some really unfair treatment. No one likes to feel like their favorite character was ignored, so hopefully now Barb will get the justice audiences have been waiting for.
And if that doesn't make you feel better, maybe you'll be pleased to know that this role was a game-changer for Purser's career. She received an Emmy nomination for the role, and now has a regular spot on The CW's Riverdale as Ethel Muggs. (Incidentally, Riverdale is one of my new favorite obsessions.) She is also starring in a couple of movies due to be released in 2018. So while Barb's short life may have ended, Purser's rising star is just getting started.
Watch Romper's new video series, Romper's Doula Diaries:
Check out the entire Romper's Doula Diaries series and other videos on Facebook and the Bustle app across Apple TV, Roku, and Amazon Fire TV.