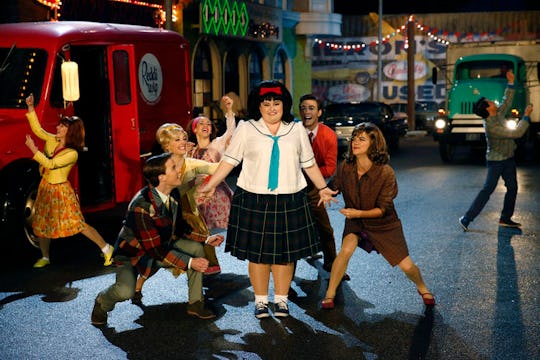 Justin Lubin/NBC
Why Isn't "Big Dollhouse" In 'Hairspray Live!'? Fans Of The Jail Melody Are Upset
When a beloved musical goes to the silver screen, there are bound to be some changes. After all, those commercial breaks eat up a lot of time. And those who were watching NBC on Wednesday night may have been wondering why isn't "Big Dollhouse" in Hairspray Live!?
Believe me people, I'm just as upset as you. Much to my mother's dismay, I spent a lot of my tween years belting out this jailhouse melody around the house. And, if the living room was free, I would throw in some sassy dance moves. (To be fair, my mother had every right to be upset. I have a horrible singing voice.) So when NBC's Hairspray Live! skipped from "Big, Blonde and Beautiful" to "You're Tieless To Me," I was screaming at the TV.
So why NBC? Why? It all comes down to timing. A typical Broadway show is about three hours long. And even though Hairspray Live! ran from 8 p.m. to 11 p.m. ET, NBC had to leave room for those money making ads.
I get it. I do. But why was this particular song cut? Well, there isn't an exact reason. In an interview with Playbill, songwriters Mark Shaiman and Scott Wittman explained that Hairspray Live! was to be a blend of all the previous versions of the musical. "We basically used the Broadway production, and then took the film songs that we most enjoy—songs that we got to write for the film—and have incorporated them into it," Shaiman said. "There's one or two things from Broadway that are not included, and there's maybe one or two things written for the movie that are not included."
Again, fair point. Although I'm not OK with NBC cutting one of my favorite songs, I take comfort in the fact that I wasn't the only person upset by this alteration.
Of course, there are some who didn't even notice the missing number, as it wasn't in the 2007 film version. (Again, a shame.) Those people will simply have to rely on YouTube videos of "Big Dollhouse" from the show's Broadway run.
Amazing, right? Maybe if fans are lucky, the Hairspray Live! soundtrack will include "Big Dollhouse." I mean, if I've learned nothing from Tracy Turnblad, it's that a girl's gotta have hope.