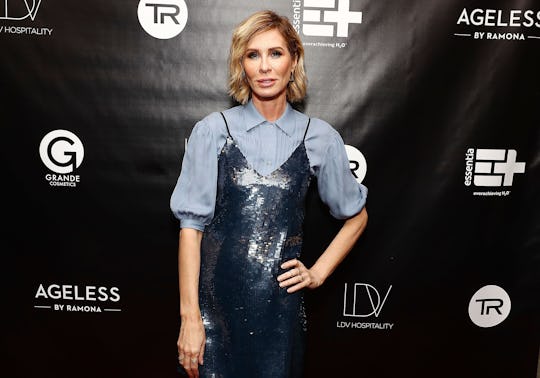 Astrid Stawiarz/Getty Images Entertainment/Getty Images
Here's Why Carole Is Leaving 'RHONY' Next Season
Real Housewives of New York City wrapped on the Season 10 reunion show about a month ago and soon after, Carole Radziwill announced that she wouldn't be returning to the series. After six years as a main cast member, fans are curious: why isn't Carole returning to next season of RHONY? Well, there's an official answer and a rumored one.
Throughout the season, Carole and former bestie Bethenny Frankel have been engaged in a brutal conflict. Despite the pair's best attempts to mend fences, it appears that they are still at odds. Some viewers, naturally, suspect that their long and difficult falling out had something to do with Carole's decision to leave the show.
For her part, Carole gave Bravo a dignified statement announcing that she was leaving to pursue other TV and writing projects. Just before Season 10 ended, it was revealed on the show that her memoir had been optioned for a TV series, which might be the pivot to TV she's referencing. But she also admitted that the book had been optioned for adaptation before and the deal had fallen through. The statement also obliquely referenced her struggles this past season and confirmed her eagerness to move beyond them and her "frenemies."
Carole's statement read:
After six seasons on Bravo's RHONYC, I have decided to return to what I do best — journalism and producing. I am sure this does not come as a surprise to any of the viewers, all of whom have been supportive, encouraging, and kind. My original curiosity about reality television has waned over the years and I am focusing on TV and writing projects that better suit my more steady temperament...I have worked with amazing producers, made great friends, and I'm thrilled to leave frenemies behind. I will remember this entire experience with delight, humor, and a veracious accuracy. Next.
Yikes! Unsurprisingly, Bethenny did not entirely agree with Carole's claims of veracious accuracy. In a tweet fired off a week later, Bethenny low-key accused Carole of lying about the circumstances of her departure. According to Bethenny, no one had ever voluntarily quit the show; they simply weren't asked to return by Bravo, basically insinuating Carole had been fired, not quit.
Carole didn't respond to Bethenny's tweet, and the three-part reunion show has yet to air, so we'll have to wait and see exactly what went down between the two. Carole memorably accused Bethenny of complaining about "rich girl problems" this season, when her troubles clearly went much deeper than anyone realized.
It's also hard for fans to swallow Carole's dismissive remarks about her one-time best friend considering the truly difficult times that Bethenny has been going through lately. For example, don't forget that Bethenny brought a stalking and harassment case against her ex-husband Jason Hoppy last year. Bethenny admitted on the Season 9 reunion show that the threatening ordeal was "torment and torture," according to People. Carole definitely has some support in her corner, but it's impossible to imagine the show and its fanbase turning its back on a beloved OG cast member. Now audiences will just have to wait and see how Bethenny's other relationships fare without Carole around.