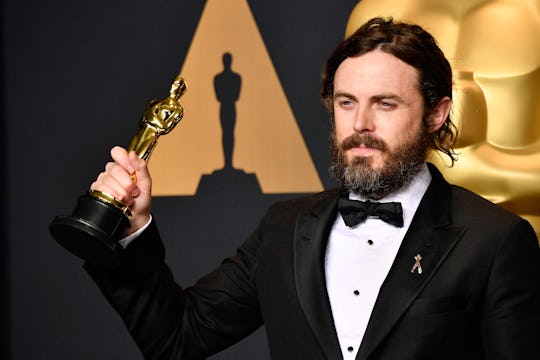 Frazer Harrison/Getty Images Entertainment/Getty Images
Here's Why You Won't See Casey Affleck At The 2018 Oscars
This year's award season has been driven by the #MeToo and Time's Up movements, which seek to empower victims of sexual assault and harassment and ensure that those accused are held accountable for their sexual misconduct and abuses of power. Which, sadly, means that a lot of men won't be gracing the red carpet or the Oscar stage this year. Just in case you're wondering why Casey Affleck isn't at the 2018 Oscars, that could be why. Romper's request for comment from Affleck's team was not immediately returned.
The 42-year-old won last year's Best Actor award for Manchester By The Sea and was supposed to present the Best Actress category at this year's ceremony. However, statements from both the Academy and Affleck's team have confirmed that he won't be showing up, as Reuters reported in January. Mara Buxbaum, a publicist to the younger Affleck, confirmed to Reuters that he wouldn't be attending, but declined to comment any further.
The Academy of Motion Picture Arts and Sciences also confirmed to Variety that the actor wouldn't be at the Dolby Theater in Los Angeles for the awards ceremony. A spokesperson told the publication, "We appreciate the decision to keep the focus on the show and on the great work of this year."
Sources had told Deadline in January that he was in a "no-win" situation. Entertainment reporter Mike Fleming Jr. reported in an exclusive for the outlet:
I've heard that Affleck did not want to become a distraction from the focus that should be on the performances of the actresses in the category and that is why he made the proactive move. He was in a no-win situation, with all the attention surrounding the #MeToo movement. The specter of Affleck presenting would have created controversy.
In 2010, Affleck was sued by two members of his I'm Still Here crew for sexual harassment. One accuser, Amanda White, alleged that Affleck told another crew member to "flash his penis" at her and referred to women regularly as cows, as reported by ABC News, who obtained the court documents. White also alleged that he tried to coerce into staying in a hotel with him and then sent angry and abusive text messages when she refused, as reported by Vox.
According to court documents made available by ABC News reported that another accuser, Magdalena Górka, alleged that she woke up in the middle of the night to find Affleck in bed with her, with his arm around her, caressing her, while "reeking" of alcohol. He reportedly left the room when she asked after multiple times, "slamming the door in anger" and she alleged that she does "not know where he had touched her while she was sleeping."
Both of those cases were settled out of court for a undisclosed amount of money. The Daily Beast reported that Affleck once commented about the allegations:
People say whatever they want. Sometimes it doesn't matter how you respond... I guess people think if you're well-known, it's perfectly fine to say anything you want. I don't know why that is. But it shouldn't be, because everybody has families and lives.
Affleck's response to the allegations and reportedly saying that it was a "no-win" situation — since he did, in fact, win an Oscar last year, seven years after the alleged incidents — is indicative of a lot of the attitudes that the #MeToo and Time's Up movements are trying to change. The Time's Up movement especially is drafting legislation that would curb the use of nondisclosure agreements around out of court settlements, so that abuses of power, along with instances of sexual assault, in every industry are at least made public.
There are a lot of things to be worked out with how our society handles the allegations against those accused of things like Affleck has. But until then, he was probably right to sit this one out, at the very least.
Check out Romper's new video series, Romper's Doula Diaries:
Watch full episodes of Romper's Doula Diaries on Facebook Watch.