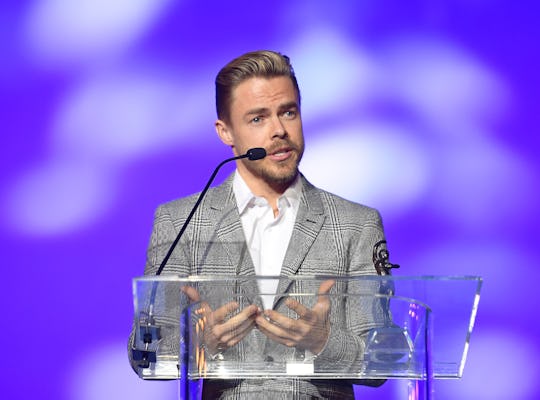 Matt Winkelmeyer/Getty Images Entertainment/Getty Images
Derek Hough Needs To Return To 'Dancing With The Stars' ASAP
A special season of Dancing with the Stars is coming to ABC and fans of the long-running reality show can't wait. The new season is all about athletes, and includes the likes of Tonya Harding, Adam Rippon, and Kareem Abdul-Jabbar, amongst many others. However, some very beloved dance pros are missing from this season's lineup, including fan-favorite, Derek Hough. So why isn't Derek Hough on DWTS Season 26? It's probably because he's been quite busy recently.
Hough hasn't competed on the reality series since Season 23 when he partnered with Marilu Henner and came in sixth place. Since then he's become a judge on NBC's reality dance competition, World of Dance, which aired its first season last summer and will return for a second season on May 29. In addition, he's also begun the Move Experience retreat with his sister Julianne Hough, which is an extension of the tour they did together.
In addition, Hough will also be hosting Grad Bash, at Universal Studios this May and June. If you're unfamiliar, Grad Bask is a large celebration of high school graduates to commemorate all they've accomplished. While getting to ride the parks rides, they also get to see a bunch of different forms of entertainment, which is where Hough comes in. With so many projects going on, it's totally understandable why Hough couldn't commit to DWTS this time around, but will he ever return?
Back in January, Hough told Access to "never say never" when it came to whether or not he'd come back to his roots on DWTS. "I love the show so much but I'm very excited about World of Dance with [the] second season," he stated. So while Hough may be open to the idea of DWTS, it definitely doesn't seem like he's in a hurry to return, at least not right now. Even though Hough himself won't be on the show, he's still connected to it in a variety of ways. Not only are a number of his closest friends still performing on the series, his girlfriend, Hayley Erbert, is part of the DWTS troupe.
While many fans may miss seeing Hough on DWTS this season, there's still plenty to look forward to this year. With this being an all-athletes season, it may just be the most competitive installment to date. In the past, fans have often complained that athletes had a leg up in the competition since many of them, particularly gymnasts and figure skaters, also had a bit of a dance background, but now all the competitors will be relatively in the same boat.
Over the past 25 seasons, nine of the winners were pro athletes. That may not seem like a lot but it's actually 36 percent of the shows winners, so it'll be interesting to see who triumphs amid this particular group. Suffice to say, this will be a very competitive season, and it'll be exciting to see how this all plays out.
Additionally, this season is also much shorter than regular seasons, taking place over the course of only four weeks. There are also only 10 athletes competing and during the season premiere there will be two couples eliminated with real-time fan voting. DWTS executive producer Andrew Llinares also promised USA Today that this season will be filled with "more twists and turns," so prepare to be shocked.
With the season flying by, this is definitely one you'll want to see from start to finish, so don't forget to tune in on Monday, April 30 at 8 p.m. ET. You don't want to miss a thing.
Check out Romper's new video series, Romper's Doula Diaries:
Watch full episodes of Romper's Doula Diaries on Facebook Watch.