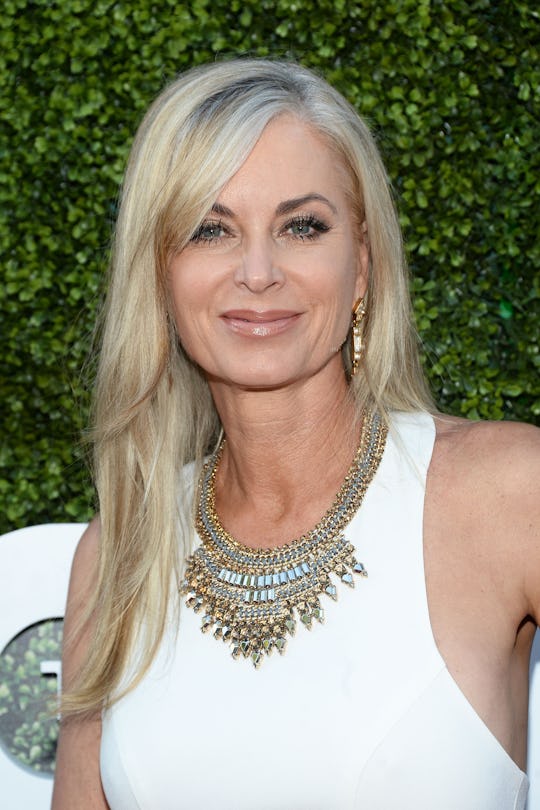 Matt Winkelmeyer/Getty
This Is Why Eileen Davidson Isn't Returning To 'RHOBH'
As surely as the seasons change, Real Housewives come and Real Housewives go. But one 'Wife that I will be missing perhaps a little more than the rest is Eileen Davidson, the soap star and general voice of reason on The Real Housewives of Beverly Hills. So why isn't Eileen Davidson returning to RHOBH? Tragically, it appears that the beloved actress is just a little too much in demand these days. For the foreseeable future, the only drama that Eileen will be involved in will be entirely scripted. I guess I'll have to start watching soap operas now.
Eileen joined the cast in Season 5 alongside her bestie and fellow soap opera star, Lisa Rinna. Her three-year tenure on the show was marked with a lot of silliness, a bit of just plain good sense, and of course, so much drama. Eileen was part of some of the most iconic moments on the show, including one very angry meal in Amsterdam in which Kim Richards famously screamed "You beast!" at Eileen, which has to go down in Housewives history as one of the greatest insults ever hurled at another person. But it seems like Eileen's work on not one but two other shows just made it impossible for her to continue on this one.
As reported by Bravo's Daily Dish, Eileen said in a statement:
After a lot of careful thought, I've decided because of my crazy schedules at The Young and The Restless, as well as Days of Our Lives, it's best for me and my family if I step away from being a Housewife for now. But you never know, I might be popping in from time to time just to see what the ladies are up to! Thanks for your love and support guys!!!
The fact that Eileen hinted that she might be showing up again from time to time is a small consolation, but I will take it. After all, I can hardly blame her. Two shows might be too much for any person to handle, let alone three. She also reiterated her statement via Twitter, writing, "TRUE! Bcuz of my crazy sched @ yr & days I must step away from hw 4 now. But I might b popping in 2 see what the chix r up 2 Thx 4 the [love]."
But it looks like not everyone is quite as upset about her leaving as I am. Eileen was also known on the show for her longtime feud with Lisa Vanderpump. Their enmity went on so long that I honestly am not sure I remember all the particulars anymore. But I do know that LVP refused to apologize, so I'm on Eileen's side by default. When asked about Eileen's departure from the show at a Vanderpump Dogs event, Lisa responded with her usual candor.
"It's always good to have the cast kind of turn over a bit, you know, keeps it fresh," she said. "I hope she's successful in her future and she had a good time on the show. But I didn't get on with her that well, honestly." If that sounds a bit harsh, you should know that Lisa did amend her statement slightly by adding, "I have to say, Eileen Davidson, as much as I didn't get on with her, she did support my fight against Yulin. So I thank her very much for that."
So if you're going to miss Eileen as much as I will (and slightly more than Lisa Vanderpump), don't worry because you can still catch her as Ashley Abbot on The Young and the Restless or as Kristen DiMera on Days of Our Lives. She's a Daytime Emmy winner, by the way, so you know it's worth a look.
Check out Romper's new video series, Romper's Doula Diaries:
Watch full episodes of Romper's Doula Diaries on Facebook Watch.