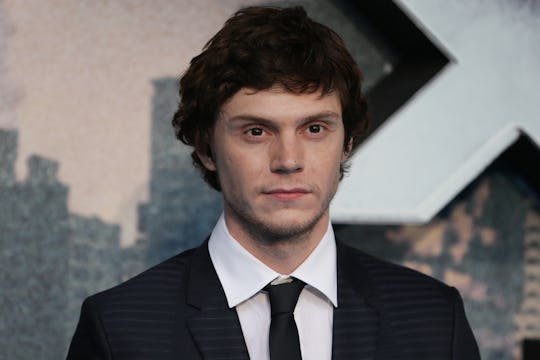 DANIEL LEAL-OLIVAS/AFP/Getty Images
Why Isn't Evan Peters in 'AHS: Roanoke'? Fans Are Anxiously Awaiting His Arrival
We're only two episodes into the season, but so far, American Horror Story: Roanoke has remained clouded in the same shroud of mystery that preceded its premiere. Going in, we had no solid idea what the theme would be, or even who the returning cast members would be playing. Many fans have been antsy about the inclusion of their favorites this season. While a few main actors showed up in the premiere and second episode, others have still yet to be introduced – like Evan Peters. His glaring absence has many viewers wondering why Evan Peters isn't in American Horror Story: Roanoke.
While news about casting did trickle out in the months before the season's September 14th premiere, it was all vague – we knew that Lily Rabe and Sarah Paulson would be in the season, for example, but had no idea that they'd be playing a haunted woman named Shelby and an actress playing the haunted woman in a docu-series dramatic re-enactment.
The new faces – actors who were not "returners" – were a complete surprise. I think we were all plenty shocked to see Cuba Gooding Jr. playing an actor playing Shelby's husband Matt in My Roanoke Nightmare, particularly after watching Gooding and Paulson face-off earlier this year in The People v. OJ Simpson.
But now, we're heading into the third episode of the season and have yet to hear or see hide nor hair of Evan Peters. Peters is an incredibly popular and beloved AHS cast member, appearing in every single season and in all-time series fan favorite roles like Season 1's Tate Langdon and Season 2's Kit Walker. So, naturally, fans have been perturbed, wondering where their fave might be and who he is playing. Specifically, some are concerned that when he does eventually show up – since he is a confirmed cast member this season and has appeared in the credits – he'll have a very minor role.
Peters didn't appear in the first episode of last season's American Horror Story: Hotel either, but he showed up in time for the second. His apparent absence in September 21's second episode of Roanoke marks the longest that we've gone in a given season of AHS without an Evan Peters sighting. Lest you think you simply missed him (during that group pig-man burning ritual, perhaps), he's listed as "Credit Only" on IMDb for the first two episodes – meaning he definitely didn't actually appear, even in a blink-and-you-missed-him capacity.
Fans are bandying about a few potential theories for where Peters is and who he might be playing. MTV reported that several fans online thought Peters might perhaps be playing the Pig-Head Man, whose "true" face we've yet to actually see – in which case, he actually would have been around (secretly) since the very first episode of the season. In what seems the most likely of the popular theories, HelloGiggles and fans on Twitter both circulated the idea that Peters would be playing the IRL version of the police officer who was on duty outside the Roanoke house when Matt had his creepy encounter with the murder-y ghost nurses. The reasoning behind this theory? Peters dyed his hair red (and seemed to confirm in an interview with The Wrap that he did it for his AHS role), and that particular cop also had distinctly red hair.
In any case, we'll all just have to keep tuning in to see how major or minor Peters' role in the season will be and how much he'll rock it. The third episode of the season airs Wednesday, September 28 at 10/9c on FX.