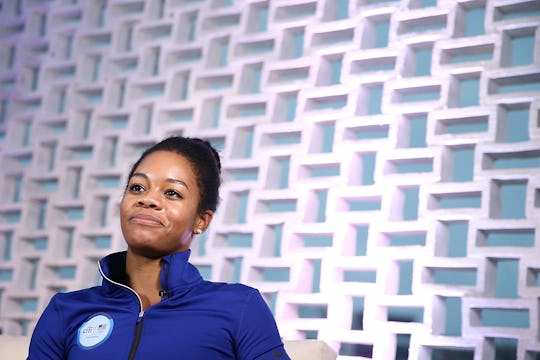 Joe Scarnici/Getty Images Sport/Getty Images
Why Isn't Gabby Douglas At The VMAs? The Gymnast Was Hospitalized
While four members of the Final Five were in attendance at the MTV Video Music Awards, the squad was sadly incomplete. That led many online to wonder, why isn't Gabby Douglas at the VMAs? Unfortunately, the Olympian was sidelined by an undisclosed ailment.
Hours before the show began, Douglas tweeted she was out of the hospital and resting comfortably — which came as a surprise to people who didn't know she was in the hospital in the first place. Before Sunday, there was no indication she was under the weather and she didn't suffer any known injuries while competing in Rio earlier in August.
Although Douglas was bedridden during the VMAs, she wasn't far from the minds of her teammates, Simone Biles, Laurie Hernandez, Madison Kocian and Aly Raisman. The four other members of the gold medal-winning gymnastics squad went on to the show, where they were scheduled to present an award.
During a pre-show interview with People, Biles said they all wished Douglas was there. "I think she's feeling a little better, but she's staying home as a precaution," Biles said. "We're sad she couldn't be here to enjoy this with us. We miss her!"
The hospitalization was just the latest in a series of misfortunes for the super star gymnast. While in Rio, Douglas was called unpatriotic by many viewers at home when she didn't place her hand over her heart when the team was awarded the all-around gold and the national anthem was played. Then, when Biles won the individual all-around, she was criticized for not showing as much enthusiasm as her other teammates. After that, she apologized — even though she really didn't have to — and offered an explanation:
I was supporting Aly (who had just lost out on the gold), and I always will support them and respect them and everything that they do. So I never want anyone to take it as I was jealous, or I wanted attention. Never. I support them, and I'm sorry that I wasn't showing it, and I should have. But for me, it's just like – it's been a lot. And I've been through a lot. But I still love them. I still love the people who love me, still love them who hate me, and I'm just going to stand on that.
Despite that all, Douglas kept her head up — but there is no doubt that wore on her. I just hope she recovers from this ailment and September treats her much better.