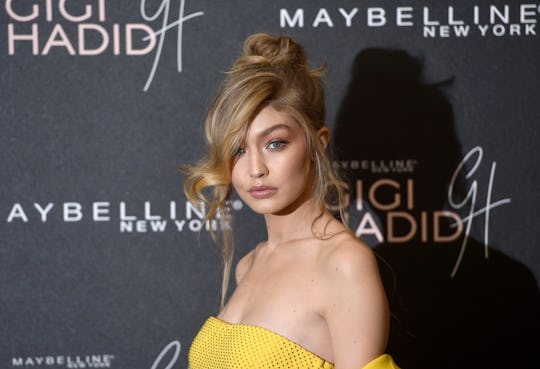 Stuart C. Wilson/Getty Images Entertainment/Getty Images
Gigi Hadid Won't Appear In The 2017 Victoria's Secret Fashion Show
Gigi Hadid has walked in the Victoria's Secret Fashion Show more than once, so it came as a surprise when she announced on Twitter that she would have to miss out this year. But why isn't Gigi Hadid in the 2017 Victoria's Secret Fashion Show? Though Hadid didn't share the reasons behind her decision not to take part, many suspect it has to do with the fact that the show will be taking place in Shanghai, China this year.
Hadid's tweet was vague but supportive: "I'm so bummed I won't be able to make it to China this year," she wrote. "Love my VS family, and will be with all my girls in spirit!! [sic] Can't wait to tune in with everyone to see the beautiful show I know it will be, and already can't wait for next year!" It seemed especially surprising because Hadid had previously posted on Instagram that she would indeed be walking in the show, and that she considered it a dream come true to have been asked back.
Though Hadid hasn't elaborated on what happened, the rumor is that she was reportedly denied a visa. The same seems to be true for several models who were supposed to walk in the show, including Irina Sharipova, Kate Grigorieva, Julia Belyakova, and Dasha Khlystun. Katy Perry, who was going to perform, also unexpectedly dropped out, and Page Six reported that she had been banned from entering China.
According to Page Six's source, who was speaking specifically about Perry, officials in China search through social media to see if any performer trying to enter the country has ever done anything that could be deemed offensive. Perry had waved a Taiwanese flag and worn a dress patterned with sunflowers, the symbol of an anti-China group; both were considered slights against the country, and may have resulted in her alleged ban.
With that in mind, reports have been circulating that Hadid might have been denied a visa because of something that happened in February of this year. On Instagram, Bella Hadid posted a video of Gigi in which she was holding a Buddha cookie and squinting, presumably to mockingly emulate Asian features; the video was subsequently deleted and Gigi apologized on Weibo, a Chinese social media platform. She wrote that it was never her intention to hurt anyone, saying:
I have the utmost respect and love for the people of China and cherish the incredible memories I have made while visiting in the past. I have learned to be very careful of how my actions can come off or be portrayed and I'm hopeful you'll accept my apology.
However, the damage was already done (and let's be real, there was no excuse for it in the first place) and some believe that may have contributed to the denial of her visa. Miley Cyrus was banned from China after she posted a picture to her website in 2009 in which she and her friends were making fun of Asian features, so Hadid's incident definitely could have had an effect.
This is not officially confirmed, and it doesn't appear that Hadid (or anyone else who was unable to get a visa for the 2017 Victoria's Secret Fashion Show) has commented on the rumors. Her sister Bella still walked the runway, and she didn't volunteer any information when interviewed by W before the show began. She only spoke about how thrilled she was to be there and how she wished she had more time to explore, saying, "It's so exciting to be able to be here and it's such a great experience for all of us, especially for the girls who have never been to China."
It would have been Gigi Hadid's third appearance at the Victoria's Secret Fashion Show, but it looks like she'll have to wait a while before walking the VS runway again.
Check out Romper's new video series, Romper's Doula Diaries:
Watch full episodes of Romper's Doula Diaries on Facebook Watch.