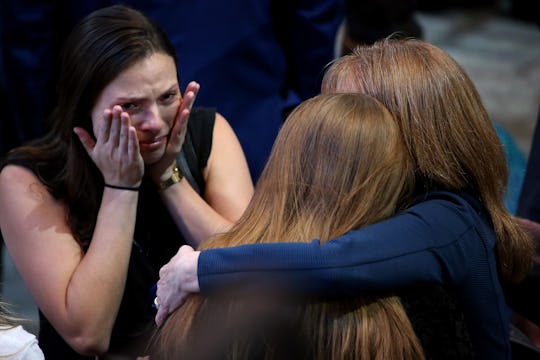 John Moore/Getty Images News/Getty Images
Why Isn't Hillary Clinton Speaking At The Javits Center? This Election Night Isn't Normal
Tuesday morning seemed nothing if not optimistic. Given the vitriol, condescending and divisive rhetoric the Republican presidential candidate Donald Trump spewed, a likely Hillary Clinton presidency was nothing if not hopeful. However, as election night dragged on and as a Trump presidency became more and more apparent, voters asked themselves, "Why isn't Hillary Clinton speaking at the Javits Center?"
A potential concession speech never happened, to the dismay of some (and to the thankfulness of others). While an out-and-out concession speech is clearly a minor detail at this point — as president-elect Donald Trump has given his victory speech — it's obvious that Clinton doesn't plan on publicly conceding anytime soon and until it is absolutely necessary.
However, Clinton did reportedly make a phone call to Trump, conceding her presidential candidacy and congratulating him on a hard-fought and essentially well-earned an inevitably won campaign. It was a move few (if any) Clinton supporters were prepared for, and one that made it all the more difficult to digest the results of a completely unprecedented presidential election.
Of course, voters and citizens of the United States of America — a country that will likely be controlled by Trump — took to twitter to voice their concerns, and their discontent with Clinton for not showing up to the Javis Center and speaking to the numerous followers who stood for hours on end to see and hear from her. Here are just a few of the many tweets sent out by fans, voters, and supporters alike:
It's unknown what will happen next, however it's undeniably true that Trump will (probably) be the next president of the United States. While Clinton might feel comfortable formally conceding to her former opponent via a private phone call, there's no denying that the citizens of the United States will look to Clinton to not only address them, but console them.
It seems highly unlikely that Clinton will contest the election, so a concession speech is (in all likelihood) part of the former Secretary of State's future. However, that inevitably doesn't make any part of our impending future easier to comprehend. What was considered to be fact — from Republicans and Democrats alike — is now a distant memory. A new age and time and United States of America is about to be ushered into reality, courtesy of a Trump presidency, and the final piece of this puzzle is a public concession speech from Clinton herself.
So, Hillary. Take your time.