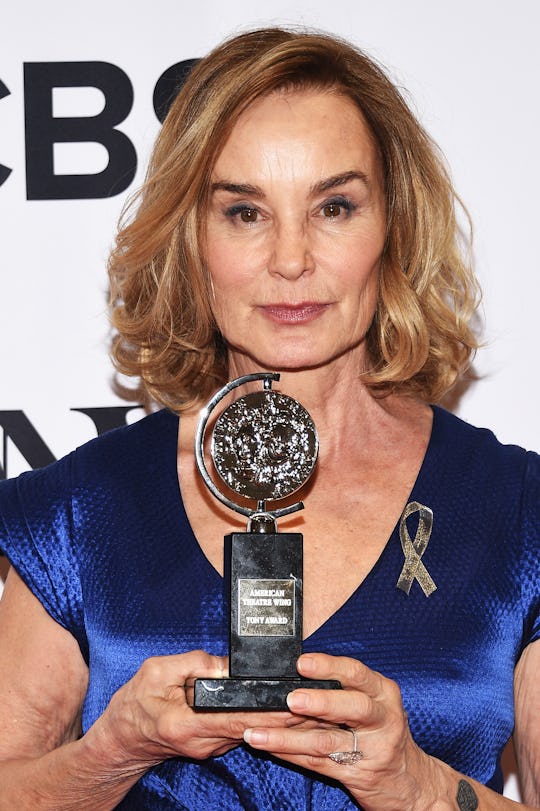 Dimitrios Kambouris/Getty Images Entertainment/Getty Images
Why Isn't Jessica Lange In 'American Horror Story' Season 6? She Was Done With The Show
Jessica Lange was pretty much the queen of American Horror Story for the four years she was on it. She played a succession of complicated, messy, glamorous women: murderous mother Constance Langdon, nun with a dark past Sister Jude, vain, power-hungry witch Fiona Goode, and finally, she closed out her time on the show with carnival proprietor and wannabe star Elsa Mars. Lange turned in a fantastic performance every time, earning two Emmys and a Golden Globe for her work on the show. It was hard not to miss her presence in Season 5 and as a new season begins without her in it, fans can't help but wonder: why isn't Jessica Lange returning to American Horror Story Season 6?
When she first left the series, Lange said that while she loved the characters she played and working with the cast and crew, she was done with the show. Later, during an interview with Charlie Rose, Lange was asked if she would ever consider returning, to which she said, "No... You know, I had four years with that – four seasons and each year was a marvelous character. But, uh, no, sometimes you come to the end of something and it has had its natural..." It seems like Lange simply felt her time with the series was over and she wanted to pursue new opportunities.
Still, don't lose hope entirely. Lange did once indicate that she might be open to returning to AHS in a less central role. She told The Wrap, "If Ryan [Murphy] came to me and said, 'Would you want to do a small character for a couple episodes?' I would absolutely say yes if I liked it. This was a great collaboration, so I would love to keep working with him."
Even though Lange left AHS, it seems like her partnership with Murphy is as strong as ever; two of her projects after leaving the show have involved Murphy. First there was a Broadway production of Long Day's Journey Into Night in which Lange starred and Murphy presented alongside the Roundabout Theatre Co.; it closed in June of this year. Then there is the upcoming FX anthology series Feud, which focuses on Old Hollywood disputes instead of murderers and possessed nuns. Lange will be playing Joan Crawford to Susan Sarandon's Bette Davis during the contentious filming of the classic film What Ever Happened to Baby Jane?
Lange has a few projects in the works aside from her Murphy collaborations. She appeared in the miniseries Horace and Pete and the film Wild Oats. She will also star opposite Naomi Watts in the film The Lonely Doll. If Lange left AHS to seek other opportunities, then she's succeeded: it looks like her schedule is full of exciting new projects.