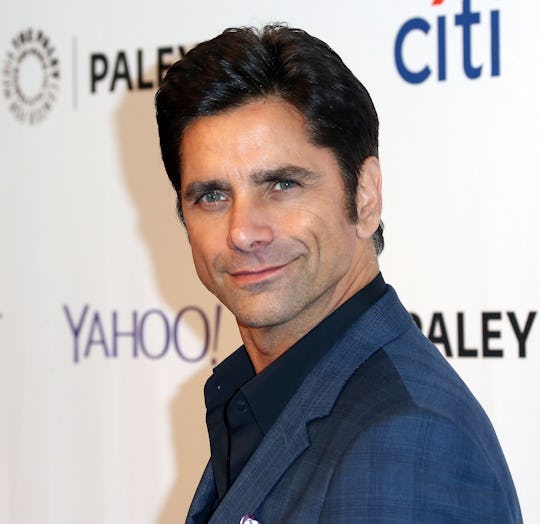 Frederick M. Brown/Getty Images Entertainment/Getty Images
Why Isn't John Stamos In All The 'Fuller House' Episodes?
It's back! Fuller House premiered on Feb. 26, and fans couldn't be happier. Having binge-watched the series myself, I can tell you that the pilot is packed with plenty of Full House references, '90s nostalgia, and all the cheese you'd expect from the Tanners. But as you watch the series, you'll notice some importance players missing in action. Mainly, the three men who ran the Tanner household all those years ago. As you watch, you'll find yourself asking where Bob Saget and Dave Coulier went and why isn't John Stamos in all the Fuller House episodes?
Well, there are a few reasons everyone's favorite Elvis-impersonating uncle is absent from a few episodes. For one, Stamos is busy staring in his own series, Grandfathered, on FOX. Not that the Grandfathered team isn't supportive of Stamos decision to reprise his role as Uncle Jesse. In an interview with The Wrap, Grandfathered creator Danny Chun said he thinks it's good for Stamos to work on Fuller House.
"John is having a moment right now. Everyone loves him," Chun said. "People are excited to have him back in their lives." But as excited as Chun and the rest of the world is to see Stamos as Uncle Jesse, all work and no play would be sure to talk a toll on the actor. Especially because he's also working behind the scenes as an executive producer of Fuller House, according to IMDB.
But there's a bigger reason Stamos won't star in every episode of Fuller House — the show isn't about him. Whereas Full House revolved a widowed dad, his bachelor brother-in-law, and his goofy BFF raising three girls, Fuller House revolves around the grown-up version of those three girls (well, two of the three. Thanks a lot Olsen twins!) In an interview on the Today Show, Full House and Fuller House star Candace Cameron Bure explained that the new series revolves around her character, D.J. Tanner-Fuller, and her struggles as a single mom.
"It's definitely a fresh take," she said. "We're not doing the old show, it's not a reunion. It's a spin-off show."
But despite the fact that Fuller House is a "fresh take," there's still plenty of Full House throwbacks for fans of the original series to enjoy. And you can bet John Stamos is sure to throw out a "have mercy" at least once during his guest starring stint.
Because, come on, some things are just too good to get rid of.