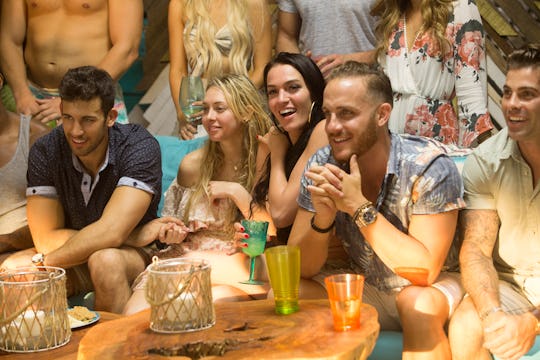 Paul Hebert/ABC
Jorge The Bartender Won't Be On 'Bachelor In Paradise' Much Longer
There are a few constants in Bachelor Nation: roses will be given out, tears will be shed, and Chris Harrison will host. One element of Bachelor in Paradise that viewers have come to love is the contestants' bartender, Jorge. Both people on the show and the audience fell in love with his charming demeanor (contestants probably love him also because he gives them booze). While he's been a Paradise staple over the past few seasons, he unfortunately won't return for most of Season 4. So why isn't Jorge the bartender on Bachelor in Paradise? He's being replaced with another familiar face.
For those who don't know, who is Jorge really? In an interview with Eater last year, Jorge — whose last name is Moreno, and was 43 at the time of the interview — said that he became involved in BIP because production filmed at the resort where he worked. At first, he was told not to speak to the cast — but the cast couldn't resist striking up conversations with him (as bar patrons are ought to do). While he left the resort to start his own business, he came back for Season 3 and became a beloved fixture of the show. Unfortunately, though, Bachelor Nation will not see Jorge's smiling face this year — at least, not for very long.
Two-time Bachelor in Paradise alum Ashley Iaconetti told Us Weekly that Jorge is preoccupied with his own business. "Jorge's not coming back as the bartender in Paradise because Jorge is doing his own thing," she said. "He has his own tour company… so he's building his own company and he won't be here this year." Viewers can take solace, though, in the fact that they will see Jorge again before he goes off into the sunset (of his touring company).
A source told E! News that Jorge was given an "emotional sendoff" in the beginning of filming; apparently, though, Jorge was serving up drinks before the Corinne and DeMario incident occurred. Afterwards, Wells from JoJo's season of The Bachelorette comes in to bartend for the contestants. While Jorge will always have a place in Bachelor Nation's hearts, it's clear that he has dreams of his own that don't involve pouring drinks for single people looking for love. While I will miss Jorge, I loved Wells during The Bachelorette and last year's Paradise; I'm excited to see what he will serve up.