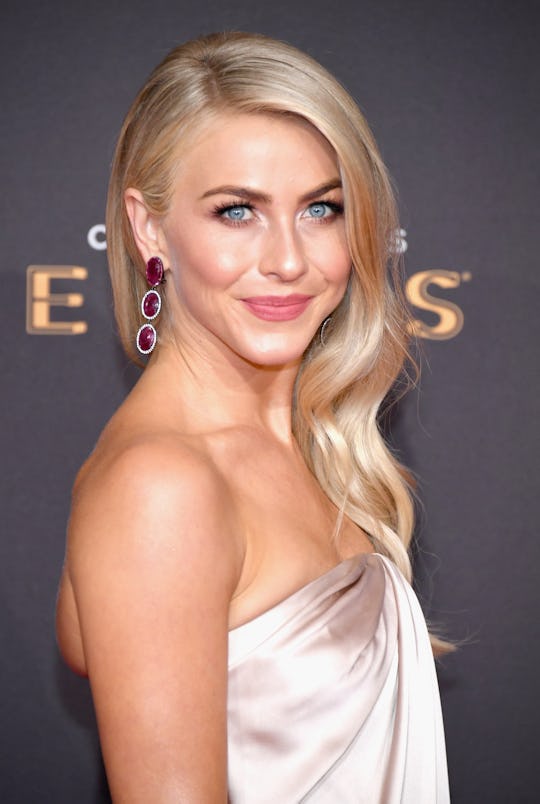 Neilson Barnard/Getty Images Entertainment/Getty Images
The 'DWTS' Judges Panel Is Losing An Important Member
There are a few things that can always be counted on when it comes to Dancing with the Stars. At least one of the "stars" will be a person I've literally never heard of; Bruno Tonioli will spend more time out of his chair than in it; and Julianne Hough will be tough as nails while somehow still seeming sweet. Except not this year. This former dance pro will be MIA for Season 25. So why isn't Julianne Hough a judge on Dancing with the Stars? I honestly don't know what this show will be like without her.
Hough joined the show as a pro dancer in Season 4 and stayed as part of the troupe through Season 8, winning the Mirrorball trophy twice — once with Olympic speed skater Apolo Anton Ohno in Season 4, and another time with race car driver Helio Castavenes in Season 5. She then joined the show as a guest judge for Seasons 17 and 18. By Season 19 she was a full-time panelist judge. She took Season 22 off and returned for Seasons 23 and 24. So while I was exaggerating slightly by saying she was an absolute fixture on the show, she is definitely a huge part of it. Suffice to say, Season 25 just won't be the same without a Hough around.
A rep for the show has released a statement about Season 25's DWTS judges, stating only that: "We are thrilled to have Len, Bruno and Carrie Ann back in the ballroom and look forward to welcoming guest judges wherever possible." The problem with this statement is that it mentions absolutely nothing about Hough specifically or why she will not be returning to the show. Is it possible that there has been some kind of bad blood between herself and the producers? Or is she just too busy with other projects?
So far, Hough herself has not spoken out about why she will no longer be a panelist judge (at least not for this season). Of course, as always, that does not stop people from trying to guess why not — me least of all. What I do know about Hough's life lately is that she married Canadian hockey player Brooks Laich this summer in what is described as an elegant outdoor ceremony in Coeur d'Alene, Idaho. I'm not sure why being married would stop anyone from judging a dance competition, but she could just be looking to take a temporary breather and unwind from all the stress.
A perusal of Hough's social media accounts is even more vague, with no reference to the show recently at all. Instead, it looks like Hough has been enjoying some time with her dog and doing some heavy endorsements on her Instagram page, mostly for athletic gear like sports bras and leggings, but also occasionally for things like perfume. Aside from that, it looks like Hough is enjoying the heck out of her life — jumping into the pool, being goofy with friends, staying in perfect shape with her various workouts, and lounging around looking gorgeous. She also posts often with pictures of her new husband.
So while no, Julianne Hough won't be a regular panel judge on this season of Dancing with the Stars, it looks like she's doing just fine without it. I have no idea whose idea it was for her not to return this year, hers or the network's, unfortunately. I do find it a bit odd that she hasn't made any sort of public statement about her departure yet, so in any case there's probably more to the story than we know. Either way, though, she's going to be missed.
Watch Romper's new video series, Romper's Doula Diaries:
Check out the entire Romper's Doula Diaries series and other videos on Facebook and the Bustle app across Apple TV, Roku, and Amazon Fire TV.