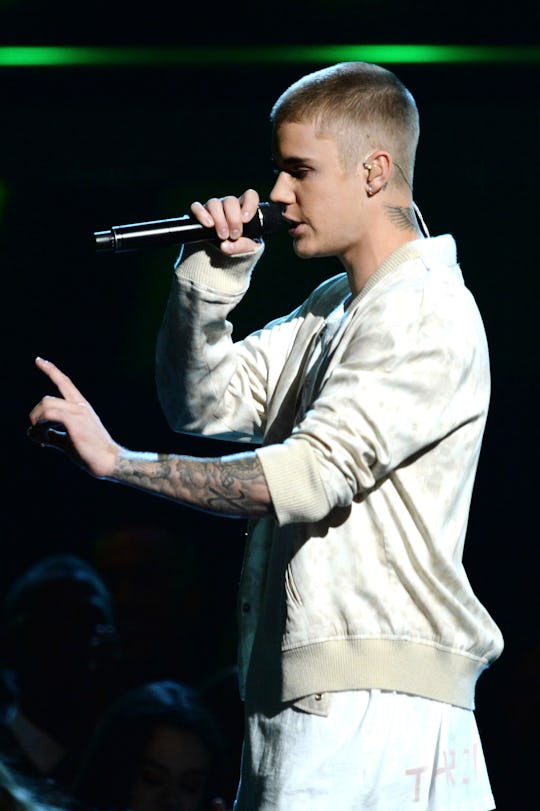 Kevin Winter/Getty Images Entertainment/Getty Images
Here's Why J Biebs Isn't At The 2017 Grammys
Notably absent from Sunday night's music awards ceremony are a few key players, with some high-profile nominees among them. Fans scanning the red carpet for their faves are dying to know: Why isn't Justin Bieber at the 2017 Grammys? With four potential Grammys to win, you'd think he'd be able to make the trip to Los Angeles.
No, it's not that Bieber's too busy. His absence, allegedly, is a statement against the program. According to TMZ, Bieber "doesn't think the Grammys are relevant or representative, especially when it comes to young singers."
As mentioned, he's not the only one. Kanye, Drake, and Frank Ocean aren't at the Grammys, either. Drake's reasoning is reportedly akin to Bieber's claim of irrelevance, and Kanye and Ocean's positions are intertwined, too. In October 2016, Kanye told crowds at one of his concerts:
I'll tell you this right now: If [Ocean's] album is not nominated in no categories, I'm not showing up to the Grammys. As artists, we've got to come together to fight the bulls***.
Kanye has continually voiced his dissatisfaction at the lack of black representation at the Grammys; his absence is a symbol of solidarity with Ocean. Despite immense critical acclaim, though, Ocean didn't even submit his album, Blonde, to be nominated, asserting that the organization in charge "doesn't seem to be representing very well for people who come from where I come from."
Whereas some artists are using their absences as moments of protest against an exclusive club, Bieber's need to boycott might be best summarized as "the Grammys just aren't cool anymore," at least, they aren't cool anymore for young artists.
This year, Bieber's four Grammy nominations include Album of the Year, Song of the Year, Best Pop Vocal Album, and Best Pop Solo Performance. For album and song of the year, he's definitely the youngest nominee — Adele is 28, Drake is 30, Beyonce is 35, and Sturgill Simpson is 38. In other categories, though, he's definitely going up against peers; Pop solo nominees Ariana Grande and Demi Lovato are 23 and 24, respectively.
Bieber's first Grammy nominations at age 16 might have set new expectations for what the award signifies to him. As an artist who was so prolific in his adolescence, it somewhat makes sense that, at 22 years old, the anticipated routines and hierarchies of the event feel a bit out-of-touch. Jury's still out on how he'll react to a win — or if he'll even acknowledge it at all.