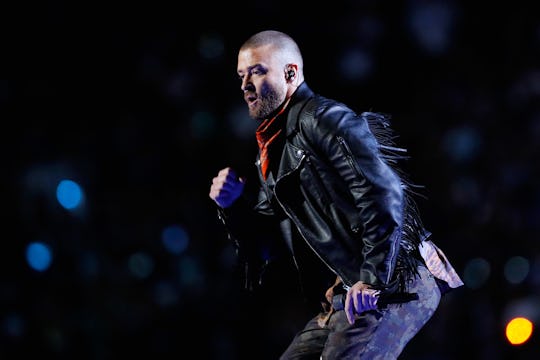 Kevin C. Cox/Getty Images Sport/Getty Images
Justin Timberlake Barely Sang During The Super Bowl Halftime Show — Yes, Really
While it's true that a great deal of the Super Bowl is dedicated to football (or so I hear), another reason to tune in is for the halftime show. This year, the main performer was announced to be Justin Timberlake. But when the main event took place, there was just one problem: he barely did any singing. So why isn't Justin Timberlake singing at the Super Bowl Halftime performance? Twitter was seriously confused about it.
Don't get me wrong, he sang some of the time. But it seemed like every time I looked up at my TV screen he was either just dancing or just playing the piano or even just standing there. Rarely were there any words coming out of his mouth. How could this be? After all, the main job of the Super Bowl Halftime show performer is to sing. But that certainly didn't seem to be a top priority for Timberlake and you better believe that Twitter took notice of it.
From confusion to outright frustration, fans immediately took to social media to discuss Timberlake's lack of singing. Sure, there were definitely some entertaining moments throughout the segment, but I know I could've definitely used a little more music coming from Timberlake's lips. And I wasn't the only one...
The fact of the matter is that I can't definitively answer this question. One aspect to consider though is that it can actually be very difficult to sing and dance at the same time. (I can vouch for this fact, though that has never stopped me from trying. Yet for some reason I'm not a famous pop star?) So it's possible that the amount of dancing Timberlake wanted to do wouldn't allow for him to properly do the vocals justice.
Again, I can't say for sure this to be the case, so this is based purely on speculation. However, this may have been something we all should've seen coming. During a behind-the-scenes video of Timberlake preparing for his performance, he wasn't shown singing during the rehearsals. So really, we should've predicted it from the beginning. Regardless, Twitter was not here for it.
Now, the counterargument to this would be that Timberlake has made a career out of singing live in front of people. He has definitely performed live during concerts, after all. Additionally, part of his Oscars performance back in 2017 to "Can't Stop the Feeling" was done live as well. So it's not like he's unfamiliar with the idea. So why was the Super Bowl an exception to this general rule?
Like I said, your guess is as good as mine right now, but whatever the reasoning may be behind his lack of singing, the fact of the matter is that it just didn't happen. He sang a little, but for the most part, it was more dancing than anything else. I'm not saying I didn't still enjoy it. As a diehard *NSYNC fan, I will never not enjoy a JT performance and I make no apologies for it. But was it one of his best performances ever that completely blew me away? No. Not at all.
One of the most talked about moments of the performance was when a projection of Prince appeared alongside Timberlake. This was surprising considering the backlash that occurred earlier in the day when rumors began circulating that a Prince hologram would appear during the halftime show as a pay to pay homage to the late singer. Fans were upset because Prince had once spoken out about his dislike of holograms in the past, especially when used for musicians who have passed away.
According to The Washington Post, Prince said it would be "the most demonic imaginable." So clearly it's not something he would've wanted. Granted, this was a projection of Prince more so than a hologram, but still. That's going to be a big takeaway for many viewers. Well, that and the fact that Timberlake barely sang during his own halftime show.
Check out Romper's new video series, Romper's Doula Diaries:
Watch full episodes of Romper's Doula Diaries on Facebook Watch.