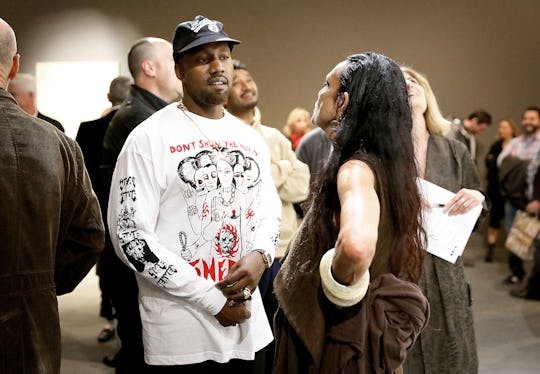 Rachel Murray/Getty Images Entertainment/Getty Images
Kanye Skipped The Grammys, But He Has His Reasons
2016 definitely ended on a rocky note, but the year was also peppered with a lot of drama as well. Especially, it seems, for Kanye West. We all remember the spectacle that followed his release of his new album, The Life of Pablo, and his feud with Taylor Swift regarding a few choice words in his song, "Famous." Even West's wife, Kim Kardashian, got involved in the end, releasing footage that seemed to prove Swift was wrong in her statements about West's lyrics referring to her as a "b-tch." So, following a rocky 2016, West has decided not to attend the 2017 Grammys. But because the rapper is nominated for eight awards this year, many are wondering: Why isn't Kanye at the 2017 Grammys?
West has always been somewhat of a loose cannon, notoriously stealing the microphone away from Swift during her acceptance speech at the 2009 Video Music Awards to point out that, in his view, Beyoncé should have won the award for Best Female Video. Many point to his creative genius as being one of the reasons he seems more sensitive than others. However, this past year, things took a turn for the worse. West was hospitalized on Nov. 21, 2016, and has since been released, but is continuing to lay low, including skipping out on this year's Grammys ceremony. His team has not yet issued any formal statements on the absence, but hopefully West is taking the night to rest up and give himself a well-deserved break.
However, West's absence from the awards this year is also quite political. While the Oscars took the most criticism last year for not being diverse enough, with the hashtag #OscarsSoWhite trending worldwide on Twitter, West and fellow musician Frank Ocean have pointed out the Grammys lack of inclusion this year as well.
In fact, although Ocean's new album has done incredibly well this past year, he didn't submit it to the Grammys for consideration for a nomination, and released a statement this weekend stating, "winning a TV award doesn't christen me successful."
West himself hasn't released a statement on the matter, although at a concert last year he declared, "If [Ocean's] album is not nominated in no categories, I'm not coming to the Grammys." As West's fame is international in its reach, it's certain that his boycotting of this year's Grammys will make a statement.
Hopefully, in light of West's absence, the Grammy producers will take note and work harder to include more diverse artists in the nominations and awards in the future. West may have had a rough past few months, but his supporters are rightfully proud of him for standing by his convictions and for doing it for the right reasons.