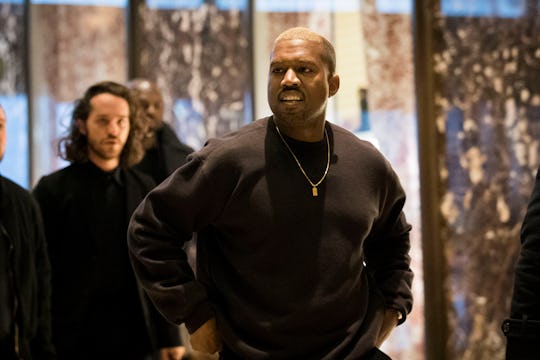 Drew Angerer/Getty Images News/Getty Images
Here's Why Kanye Isn't Attending The Met Gala
Eager Met Gala watchers may have noticed one face conspicuously missing from the couture-clad crowd of celebrities this year. Rapper Kanye West skipped the Met Gala on Monday night, leaving wife Kim Kardashian to walk the red carpet alone. But for all those wondering why West didn't show, there's no need to worry, at least according to E! News. Sources told the publication that West decided to stay in Los Angeles with the kids because he just didn't particularly want to go, but that he and Kardashian are doing fine.
In years past, West and Kardashian have been staples on the red carpet for the high-profile event, which is sometimes unofficially called the "Oscars of the East Coast." Since 2013, West and Kardashian have attended the Met Gala in matching, meme-inspiring outfits, and have always been some of the most anticipated guests for fashion-forward fans. After West and Kardashian's sparkling silver ensembles for last year's "Manus x Machina: Fashion in an Age of Technology" theme, many couldn't wait to see what the couple would pull out for 2017, particularly because this year's fundraiser for the Metropolitan Museum of Art's Costume Institute is honoring Comme des Garçons designer Rei Kawakubo. Kawakubo is known for her wildly unique, avant-garde designs, meaning that Met Gala attendees were encouraged to get weird. And that's generally the kind of challenge West and Kardashian are able to rise to quite well.
Kardashian had to do it on her own this year, however, so we'll never know what kind of bold, non-traditional look West would've brought to the red carpet.
It seems, though, that skipping the Met Gala might have been a smart choice for West. He has been keeping a lower profile since November, when he voluntarily hospitalized himself for exhaustion after canceling the rest of his Saint Pablo tour. Now, it seems that he's taking some time to get fully back into the intensity of the red carpet world, and it's awesome that he's able to attend to his own needs.
And as far Kardashian's reaction to going it alone? It seems that the reality TV superstar been a supportive spouse throughout West's recovery. According to Us Weekly, West's hospital stay was beneficial for their marriage, with a source claiming in a comment to the magazine,
[Kardashian] didn't realize how much of Kanye's behavior stems from a mental illness. When he's doing the things his therapists tell him to do, she is so much happier.
Here's hoping that West is having a relaxing night at home, hanging out with his kids, and doing what he needs to do so that, by the time next year's Met Gala rolls around, he can blow us all away.