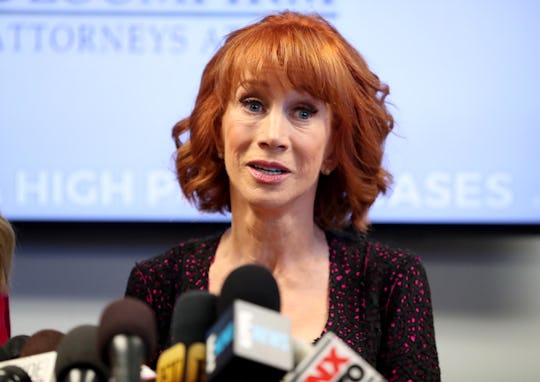 Frederick M. Brown/Getty Images Entertainment/Getty Images
Don't Expect To See Kathy Griffin Hosting Any New Year's Eve Events
Kathy Griffin has hosted CNN's New Year's Eve broadcast alongside Anderson Cooper since 2009, making their friendship a fixture of the holiday. Her wild energy combined with Cooper's more composed persona was always an amusing way to ring in the brand new year, but things will be different when 2017 turns to 2018. Andy Cohen will be taking over Griffin's spot. But why isn't Kathy Griffin hosting CNN's New Year's Eve broadcast?
Griffin and Cooper appear to have had a falling out following a Tyler Shields photoshoot she took part in that depicted Griffin holding Donald Trump's severed head. The photoshoot had immediate ramifications for Griffin's career, reportedly ending numerous engagements for her and causing CNN to cut ties. In May of this year, the network tweeted that they had "terminated our agreement with Kathy Griffin to appear on our New Year's Eve program."
Cooper also tweeted his disappointment when the picture was released, saying, "For the record, I am appalled by that photoshoot Kathy Griffin took part in. It is clearly disgusting and completely inappropriate." It seems as though Griffin's actions crossed a line with CNN, which led to the decision to end her involvement with the New Year's Eve broadcast. And apparently they weren't the only ones who felt that way.
In a video posted to her YouTube account, Griffin explained that she had also lost a sponsorship with Squatty Potty because of the photo and had no paid work lined up for her in the future, either. "I'm fully in the middle of a blacklist, a Hollywood blacklist," she said. "It is real. I'm not booked on any talk shows. I'm selling tickets worldwide which is really hard when you don't have any kind of a television platform and kind of nobody has your back."
Griffin initially apologized for taking part in the photoshoot with Shields. In her statement, she said that the backlash had made it clear to her that she had crossed a line. The picture was too disturbing, and the negative response made her realize that. "I've made a lot of mistakes in my career," she said. "I will continue. I ask for your forgiveness. [I'm] taking down the image, going to ask the photographer to take down the image. And I beg for your forgiveness. I went too far, I made a mistake, and I was wrong."
However, a few months later Griffin had changed her mind. She appeared on the Australian talkshow Sunrise and said, "I am no longer sorry, the whole outrage was B.S., the whole thing got so blown out of proportion. I lost everybody." She further explained, "I didn't just lose one night on CNN. My entire tour was canceled within 24 hours because every single theater got all these death threats. These Trump fans, they're hardcore."
Cooper claimed he and Griffin were still friendly after the controversy when he appeared on Watch What Happens Live with Andy Cohen. According to Cooper, he didn't think what she did was appropriate but he wished her the best and hoped that she "bounces back." He also said that he was not in any way involved in CNN's decision to remove her from the New Year's Eve broadcast, though he understood the decision.
In an interview with The Cut, Griffin indicated that despite what Cooper was saying publicly, he hadn't reached out to her in private. When they finally did speak, Griffin chose to end their long friendship. It doesn't seem that she will ever be back to start the new year alongside Cooper, bringing a tradition that has lasted for seven years to a close.
Check out Romper's new video series, Romper's Doula Diaries:
Watch full episodes of Romper's Doula Diaries on Facebook Watch.