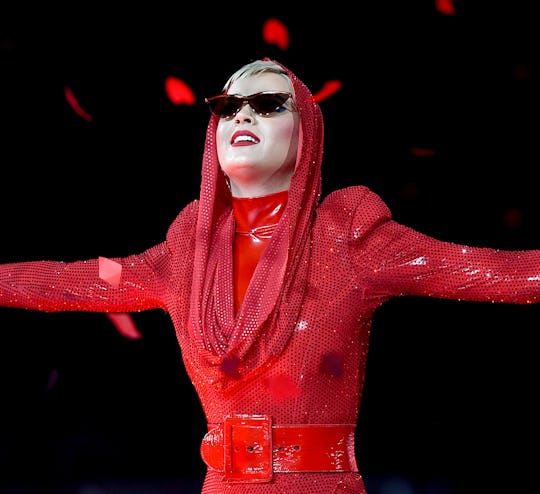 Kevin Winter/Getty Images Entertainment/Getty Images
Don't Expect Katy Perry To Perform At The Victoria's Secret Fashion Show
The Victoria's Secret Fashion Show is an annual spectacular that comes complete with improbably sparkly lingerie, gigantic faux wings, and some famous musical accompaniment. Though it initially looked like pop star Katy Perry would be joining the lineup this year, that no longer appears to be the case. But why isn't Katy Perry performing at the Victoria's Secret Fashion Show this year? It has to do with the decision to host the runway show in Shanghai, China, where Perry has reportedly been denied entry.
Page Six reported that not only was Perry rejected for a visa, she was also allegedly banned from entering China even though it had seemed like she would be allowed to perform at the show at first. The reason for the rejection appears to be due to a 2015 incident in which Perry wore a dress patterned with sunflowers during a performance in Taipei, Taiwan. While that might seem innocuous, sunflowers had become a symbol for anti-China protestors, so it was perceived as a slight. At the same concert, Perry also apparently waved a Taiwanese flag during her performance, a sign of support for a country that had had conflict with China for years over its independence.
Perry wasn't the only one banned, either. Model Gigi Hadid will also reportedly have to sit out this year's Victoria Secret Fashion Show as well.
An unnamed source spilled the details to Page Six, saying:
[Perry] was initially granted a visa to perform at the VS show in Shanghai, then Chinese officials changed their minds and yanked her visa. For every artist who wants to perform in China, officials comb through their social media and press reports to see if they have done anything deemed to be offensive to the country. Maroon 5 was banned a few years ago because one band member wished the Dalai Lama happy birthday on Twitter.
The executive producer of the fashion show, Ed Razek, neither confirmed nor denied this. In a statement to People, he mentioned how thrilled he was about the performers who will be able to attend the show, which include Harry Styles, Miguel, Leslie Odom Jr., and Jane Zhang. He also attempted to smooth over any rumors of controversy. "The news reports I've been reading from the U.S. here in Shanghai regarding this year's Victoria's Secret Fashion Show are not an accurate reflection of what I'm seeing and experiencing on site," Razek said.
He went on to say that the people working with Victoria's Secret in China have been "wonderful and enthusiastic hosts and partners." Razek explained that more than 700 visas have been granted to those involved with the show and that every step possible has been taken to make the collaboration a success. Perry has not appeared to have commented on the situation, either in a statement or on her social media accounts.
If Perry was indeed banned based on her apparent support of Taiwan, then she wouldn't be the first performer this has happened to. In addition to the ban against Maroon 5 mentioned by the Page Six source, Vogue reported that Lady Gaga, Björk, and Oasis had also been denied entry to China reportedly because they appeared to show support for the Dalai Lama or Tibet.
Justin Bieber was banned because, according to Beijing's culture bureau, "As far as we are concerned, he has engaged in a series of bad behaviors, both in his social life and during a previous performance in China, which caused discontent among the public."
Suffice to say, it looks like Perry will miss out on this year's Victoria's Secret Fashion Show, but maybe she can snag an early spot in next year's big event.
Check out Romper's new video series, Romper's Doula Diaries:
Watch full episodes of Romper's Doula Diaries on Facebook Watch.