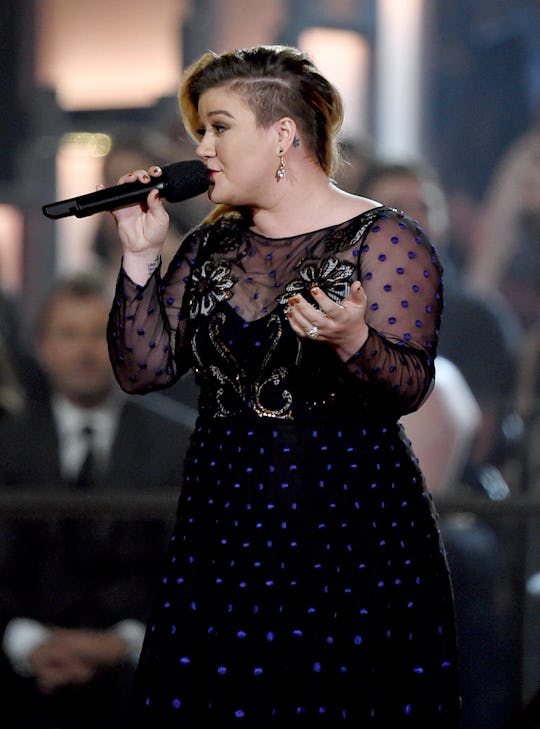 Ethan Miller/Getty Images Entertainment/Getty Images
Why Isn't Kelly Clarkson At The 'American Idol' Finale? She Has A Good Reason
Though it seemed like a sure thing that former American Idol winner Kelly Clarkson was going to return to the stage that made her famous for the show's series finale, now things aren't looking so good. Clarkson won't be able to make an in-person appearance on the show despite prior announcements that she would be performing alongside another Idol winner, Carrie Underwood. Instead, Clarkson will pre-tape a segment that will air on the American Idol finale's second night (out of three, because that's how they roll). The question remains, why isn't Kelly Clarkson at the American Idol finale?
It's actually for a pretty great reason — the pop star is pregnant with her second child and due to give birth pretty much any minute. Since she didn't want to actually give birth mid-song (despite how much fun Twitter would have if she did), Clarkson is bowing out for the evening and hopefully going to tune in from the comfort of her couch like most fans. Clarkson revealed a few months ago that she and husband Brandon Blackstock are welcoming a baby brother for daughter River Rose. Clarkson has been taking it easy throughout her second pregnancy (understandably) after the discomfort she felt during her first, so it's probably for the best that she's sitting out one last song live on the Idol set.
Even though she won't be physically present in the studio for the show's last episodes, American Idol hasn't been without Clarkson's presence in its final season. She showed up a few weeks ago to give an emotional performance of her song "Piece By Piece," as well as to serve as a guest judge – showing the tables have truly turned since the days when she was a contestant. In addition to that performance and her taped segment, Clarkson has appeared in Fox's American Idol retrospective. She may not be able to be there in person, but she'll certainly be there in spirit.