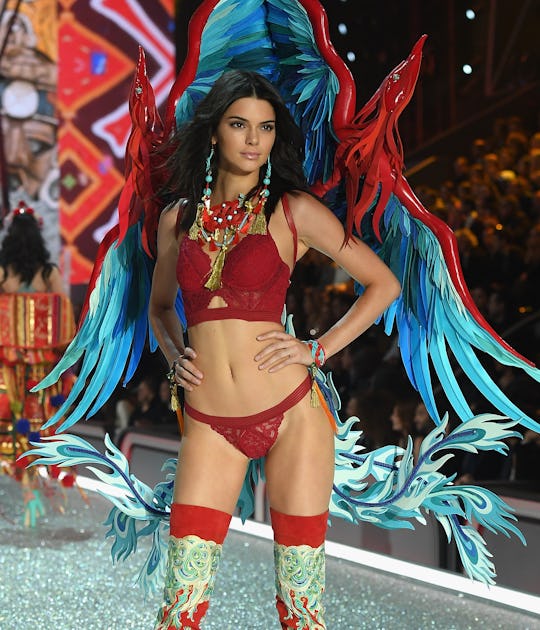 Dimitrios Kambouris/Getty Images Entertainment/Getty Images
Kendall Jenner Has A Good Reason For Not Attending The Victoria's Secret Fashion Show
The 2017 Victoria's Secret Fashion Show brings the Angels to Shanghai, China, for a rhinestone-studded, winged walk down the biggest lingerie runway of their careers. But one model from previous years is conspicuously missing from the class of 2017, which may have viewers wondering: why isn't Kendall Jenner in the 2017 Victoria's Secret Fashion Show? While several models struggled to secure visas to China taking them out of the running, Jenner had a very different reason for not walking in this year's show.
Last March, she inked a deal with luxury lingerie brand La Perla to be an ambassador for the label. Of course, that multi-million dollar deal comes with a non-compete agreement, so she didn't even audition to walk in the Victoria's Secret show for 2017, even though she's previously walked in the 2015 and 2016 shows. However, here's a little known fact: according to Cosmopolitan, Jenner was never technically a Victoria's Secret Angel. She was only a Victoria's Secret model. And yes, there's a difference.
Victoria's Secret Angels are under contract with the brand, "meaning they have to be on call for photo shoots, appearances, and parties for VS throughout the year." Plenty of other models walk in the Victoria's Secret Fashion Show without being under contract — like Jenner and Gigi Hadid, but they don't get special Angel status. (Also, that whole thing about how only Angels get to sport those iconic wings in the fashion show is a myth, too. They're worn by both Angels and VS models — basically, it has more to do with how famous the model is than her title in the VS universe.)
Gigi Hadid also won't be walking this year after some turmoil of her own. She confirmed that she'd model in the 2017 Shanghai Show back in September, but caught swift backlash for her role in a racist video posted by her sister Bella earlier in the year. The video shows Hadid squinting next to a Buddha cookie in apparent mockery of East Asian eye shapes. After Hadid announced that she'd be in the 2017 show on Instagram, her post was flooded with comments like, "Don't come to Shanghai. You're not welcome here."
She later announced she'd be pulling out of the show, although a definitive reason was never confirmed. Meanwhile, four models from Russia and Ukraine claim to have been denied the proper paperwork to visit China. Julia Belyakova, Kate Grigorieva, Irina Sharipova, and Dasha Khlystun all booked the 2017 Victoria's Secret Fashion Show, but won't be able to make it because of visa issues. It's not totally clear why these models would be denied visas, since, according to Business Insider, China's state-run news agency reports that relations between the two nations are at "their best time in history," as a joint statement from China and Russia's presidents puts it.
However, earlier this month, a 14-year-old Russian model died during Shanghai Fashion Week while on a three-month assignment in the region. She reportedly didn't have any health insurance, which may have prevented her from speaking up about feeling ill. Russian authorities are still investigating her death and trying to determine whether or not criminal neglect took place.
Models who will be taking the runway for the 2017 Victoria's Secret Fashion Show include Bella Hadid, Karlie Kloss, Adriana Lima, and Jourdana Phillips, with Lais Ribeiro sporting this year's coveted Fantasy Bra (that's the super uncomfortable looking Swarovski crystal-encrusted one that retails for $2 million). As for Jenner, she's already looking gorgeous in her La Perla campaigns, so sitting out this year's Victoria's Secret Fashion Show doesn't seem to be cramping her style.
Check out Romper's new video series, Romper's Doula Diaries:
Watch full episodes of Romper's Doula Diaries on Facebook Watch.