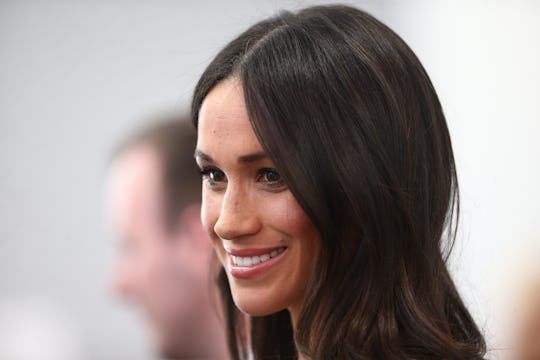 WPA Pool/Getty Images Entertainment/Getty Images
Despite A Rocky Week, Meghan Markle's Father's Status At The Royal Wedding Has Been Determined
Although millions of people tuned in from their own homes to watch Meghan Markle marry Prince Harry on Saturday morning, a select number of people actually got the pleasure to do just that in person. Friends and family members close to the couple gathered to celebrate the couple, but there were a few people that were noticeably absent from their big day. Like Meghan's dad, Thomas Markle Sr. If you saw someone else escorting Meghan down the aisle at the beginning of the ceremony, then you were probably wondering why wasn't Meghan's dad at the Royal Wedding. But the answer to that is just a little complicated.
When Meghan walked down the aisle of St. George's Chapel, all eyes were on her and her gorgeous dress. But in spite of the joyous occasion, of course some people couldn't help but be distracted and wonder why her dad wasn't walking her down the aisle. Although Thomas heavily contemplated the decision to walk his daughter down the aisle, according to People, he made his final decision earlier this week when he chose to have heart surgery on Wednesday and spend the following the days recovering. Thomas told TMZ earlier in the week that while he would have loved to be in England with his daughter on what might be one of the biggest days of her life, he had to undergo surgery on Wednesday morning, three days before the wedding.
And it's pretty well known that if you undergo a major surgery, you have to spend some time afterwards recovering. "They [doctors] will go in and clear blockage, repair damage, and put a stent in where needed," Thomas said of his surgery, according to TMZ.
It's completely understandable as to why Thomas would want to put his health first, especially after TMZ reported on Monday that he had suffered a heart attack earlier in the month of May. Thomas told TMZ that after the heart attack he "checked himself out of the hospital so he could attend the wedding" but still decided against attending at the last minute. Needless to say, Meghan and Prince Harry were devastated by the news. A representative for Kensington Palace told People:
This is a deeply personal moment for Ms. Markle in the days before her wedding. She and Prince Harry ask again for understanding and respect to be extended for Mr. Markle in this difficult situation.
But if you thought Thomas would be in the wedding, you're not alone. In the past week, Thomas had changed his mind and his RSVP in regards to the royal wedding quite a few times, according to Vanity Fair. In the beginning of May, according to OK!, Kensington Palace confirmed that Thomas would be attending the wedding and would play a role in the ceremony. "Mr. Markle will walk his daughter down the aisle at St. George's Chapel," the statement said, according to OK!. "Ms. Markle is delighted to have her parents by her side on this important and joyous occasion."
But just a few weeks later, Thomas changed his mind about going after he told TMZ that he was "embarrassed" after he "allowed a photo agency" to take pictures of him getting ready for the wedding and pulled out of walking his daughter down the aisle. This, on top of his heart attack earlier in the month, was enough to get him to reconsider things, according to TMZ — and on Tuesday before the wedding, Thomas had admitted himself back into the hospital where the doctors performed a "battery of tests on him." It was then when doctors scheduled him for surgery, according to TMZ, therefore making him miss the wedding. People on Twitter were skeptical about Thomas not attending the wedding, having mixed reactions to the news:
Thomas' health is so important — his body is the only one he has. People have to respect his decision to prioritize this, even if that means missing out on attending the biggest wedding of the year. Although Thomas' presence was noticeably absent from the beginning of the ceremony, it was just a minor distraction from a truly beautiful wedding.