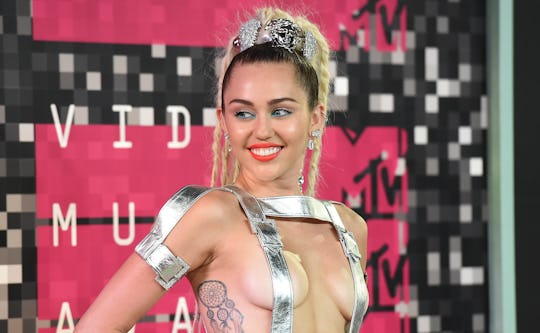 Jason Merritt/Getty Images Entertainment/Getty Images
Why Isn't Miley Cyrus At The VMAs This Year? She's Having A Chill Night At Home
MTV's Video Music Awards is one of the biggest nights in music each year. Filled with drama, memorable performances, and the best of the best in music, the VMAs is not a show you want to miss. Although this year's show doesn't have a host, last year it was Miley Cyrus who led the show, and people are still all asking her, "What's good?" The VMAs were a big deal for Cyrus last year as she also chose that night to release her album for free right after the show. Even though Cyrus isn't hosting again this year, one has to ask why isn't Miley Cyrus at the VMAs this year? The answer is she's too busy at home just chilling with her dogs.
Leading up to the VMAs there was a lot of speculation surrounding whether or not Cyrus would make an appearance at the show this year and if she would bring her on-again, off-again boyfriend, Liam Hemsworth, along with her. Cyrus has always been a crowd pleaser at the VMAs, from the time she danced with Robin Thicke to "Blurred Lines" in 2013 to last year when she ended the show with an outrageous (and very censored) performance of her song "Dooo It!" It's no surprise then that fans were disappointed that Cyrus couldn't make it this year. However, those who aren't fans of Cyrus may have felt a bit differently.
In the caption she wrote:
Sorry I can't make it to the VMAzzz I am toooo busy at home doing yoga & making out w my dogs! 👅💖✌️
Although a lot of fans loved Cyrus' hosting of the VMAs last year and many were secretly hoping she would return as one of the multiple hosts MTV promised this year, many are happy Cyrus isn't in attendance. The VMAs were definitely entertaining in 2015, but they were also very weird. With the large stuffed animals, her various and increasingly absurd outfits, and her overall general antics, many weren't impressed with Cyrus.
Still, whether you loved it or hated it, you gotta admit Cyrus gave us a great show last year. With no host this year it'll be interesting to see how the VMAs are run but no doubt just with every year it'll be highly entertaining.